Gerry Adams: Poots 'to be pitied not scorned'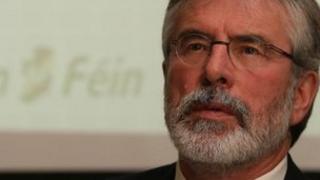 Gerry Adams has said comments by the health minister describing him as the paedophile protecting president of Sinn Féin were "vicious, obscene and offensive".
Edwin Poots said Mr Adams was a "paedophile protecting president" during an assembly debate last week.
Mr Adams has been accused of withholding information about his niece's sexual abuse by his brother.
Liam Adams was found guilty of rape last month.
Speaking to BBC Radio Ulster's Sunday Sequence programme, the Sinn Féin president said he "tries not to rise" to the comments.
"Edwin Poots is more to be pitied than to be scorned," he said
"If that's the sum total of his contribution to making life better for people he needs to serve as health minister, then God help us all."
Mr Adams was also asked about last week's BBC documentary about the Disappeared on which he was asked about his alleged role in one or more of the murders.
"Arguably, I suppose, every single victim of the conflict would deserve a programme such as that," he said.
"But in this case I think it showed up the cruelty and the horror of war, even a low intensity war such as the one that occurred in our part of the island."