Pipe bombs found at Nutts Corner, County Antrim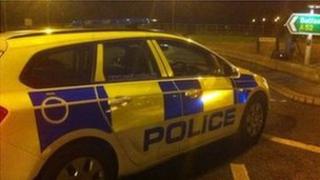 Two pipe bombs have been discovered during a security alert in County Antrim.
The bombs, which were in a bag, were found by a police patrol in a lay-by on the Belfast Road at Nutts Corner on Friday evening.
They were examined by Army bomb disposal experts who made them safe.
Both devices have been taken away for further forensic examination and all roads have been reopened. Police have appealed for witnesses to contact them.
Alliance Party councillor Alan Lawther said: "I utterly condemn the people who left those bombs there that could have been found by a passerby.
"There's plenty of people park on their way to the airport, sit in for a while before going to pick someone up, and they could have come to harm.
"Innocent people could have come to harm - it is totally irresponsible behaviour."