Barra McGrory: Flag riot sentences too lenient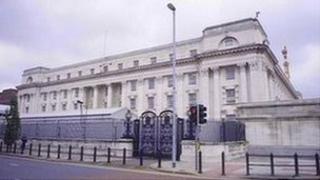 Suspended sentences imposed on three men for rioting in Belfast were unduly lenient, the Court of Appeal has heard.
The NI director of public prosecutions said the trio, including a soldier who served in Afghanistan, should receive tougher and more deterrent punishment.
Robert McKeown, Edward Lynn and Stephen Ferris were all convicted earlier this year for their roles in separate riots.
The incidents followed a Belfast City Council decision to limit the flying of the union flag at the city hall.
Director of Public Prosecutions Barra McGrory said: "In each of these three occasions there was sustained and ferocious violence perpetrated against the police, either in the city centre, commercial or residential areas where no-one in those areas, innocently or through necessity, could have been in anything other than serious fear of what was going on around them."
McKeown, 27, of Whincroft Road, Belfast, received an 18-month prison sentence, suspended for three years, for throwing missiles at police during the first outbreak of violence in the east of the city on December 3 last year.
Hurling masonry
Lynn, 22, from Fenaghy Park, Galgorm, Ballymena, was given a 15-month suspended term for being part of a crowd that attacked police in the same area during weekly protests the following month.
Wearing a Rangers scarf as a mask, he was seen on CCTV footage hurling masonry, the court heard.
"This is in the context of his own background as a member of the Territorial Army who served in Afghanistan," Mr McGrory said.
"Nobody has made the case that this offending was linked to trauma as a consequence of serving.
"He made a choice in choosing to attack the security forces, even though he had himself served with credit."
Ferris, 19, of Matilda Gardens, Belfast, was sentenced to two years in prison, suspended for three years, for rioting in east Belfast a week later.
Mr McGrory said Ferris came prepared with a golf ball to throw at police and was part of a crowd hurling missiles into the nationalist Short Strand district.
'Too much credit'
Sectarianism was a factor in this outbreak of violence, according to the director.
Although all three men pleaded guilty, Mr McGrory claimed they received too much credit for their admissions.
"The sentences imposed by the trial judges were unduly lenient," he said.
"In a case of this nature, involving very significant public disorder where significant sections of the public of Belfast were subjected to abject fear, where there is sustained rioting on a systematic basis over a series of Saturdays, the court should be loath to suspend the sentences unless the individual circumstances met the test of exceptional circumstances.
"They are not met in any of the three cases."
Defence lawyers said, however, that the proper sentencing approach had been taken.
A defence lawyer described Lynn as a "fish out of water" whose involvement was limited to a 12-second period.
With further submissions still to be made by the defence, the case was adjourned until Monday.