Under-car bomb target was former policeman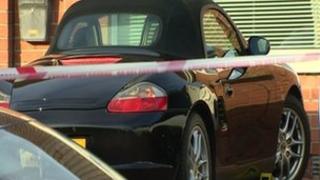 Police have revealed that a former police officer was the target of a viable under-car booby-trap bomb off the King's Road in east Belfast.
They said the man spotted the device when he checked under his vehicle at Kingsway Park, near Tullycarnet estate.
The man was about to take his 12-year-old daughter to school.
A police spokesman said it was only due to the vigilance of the former officer that no-one was killed or seriously injured.
Police said the device bore striking similarities to previous bombs used by dissident republicans and that was now a major line of inquiry.
A senior PSNI officer said the man targeted had left the police force some years ago.
The police said the level of threat posed by dissidents remained severe.
'Drag us back'
First Minister Peter Robinson and Deputy First Minister Martin McGuinness reacted to the incident after emerging from a meeting in Armagh with Irish Prime Minister Enda Kenny and his deputy Eamon Gilmore.
Mr Robinson said: "There are some elements of our society who have not caught the public mood that wants to move forward and see progress made.
"There are people that want to drag us back. Politically they will not break the progress that has been made, we will continue to work together to make a better community for the people that live here."
Mr McGuinness said the Stormont Executive was "going to ensure the dissidents did not succeed".
"The best way that we can prevent those involved in these types of activities is to make it clear to every citizen on the island who supports the peace process that they have a duty and responsibility to pass on whatever information they have," he said.
PSNI Chief Constable Matt Baggott said it was "extremely fortunate no-one was killed by this deadly device".
"In recent weeks, my colleagues and I have talked about an upsurge in dissident republican activity and today's events serve as a reminder to us all of the current severe threat," he said.
'Murder bid'
"I would urge everyone to remain extremely vigilant and report anything unusual or suspicious."
Justice Minister David Ford "strongly condemned those who tried to murder a former police officer in east Belfast".
"Those behind this murder attempt have once again shown an utter disregard for human life, not only for the life of someone who served the community, but also his family and others living in the area," he said.
"These devices are unstable and do not discriminate when they cause injury or death.
"I commend the vigilance of the former officer. Without it we could be facing a very different scenario."
Policing Board chair Anne Connolly said: "Bringing terror to a family home and a residential area is unjustifiable and I urge anyone with information to pass it to the police."