Tyrone teenager charged with murdering father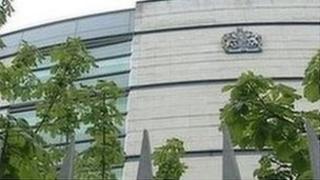 A 19-year-old County Tyrone man has been formally arraigned in Belfast accused of the murder of his 60-year-old father Aloysius Hackett.
Mr Hackett was a former chairman of St Macartan's GAA.
His son Sean, a former Tyrone GAA minor captain, denied murdering his father at the family home on Aghindarragh Road, Augher on 4 January.
He also denies two charges of possessing a firearm and ammunition with intent to endanger life.
His friend Ronan Mulrine, 18, from Dunroe Road, Augher, faces five charges, including possessing guns and ammunition under suspicious circumstances, and without a firearms certificate, between November 2012 and 1 January.
Mr Mulrine, who pleaded not guilty to the charges, also denied perverting the course of public justice by deleting mobile phone texts "and other messages relating to the supply of a firearm and ammunition to Sean Hackett on dates between the first day of November 2012, and the 5th day of January 2013".
'Not in dispute'
Omagh Crown Court, sitting in Belfast, was told that their trial was expected to be held in Dungannon, County Tyrone, in early February next year.
A lawyer for Mr Hackett agreed with the judge that the primary facts in the case were not really in dispute.
A prosecution lawyer said it was the type of case where any "problematic issues were unlikely to arise".
Although no details surrounding the shooting were given to the court, an earlier High Court hearing was told that while Sean Hackett initially claimed he had found his father dead, he later admitted to detectives: "I shot him."
The court also heard that in a statement during interviews the accused said he had been involved in an incident resulting in the death of his father "whom I love very much," and that he had been suffering from depression in the months beforehand.
It was also revealed that Mr Hackett borrowed a legally-held gun from a friend in November last year. Although he had returned the weapon it was given to him again on New Years' Day, along with some ammunition.