Attorney General 'over-reached' himself on occasions says Attwood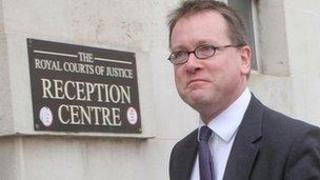 A former Stormont minister is calling for changes to the office of Northern Ireland's attorney general.
John Larkin has held the position since June 2010.
The SDLP's Alex Attwood said that the office had been given greater responsibility than necessary or desirable.
Speaking on the BBC's The View programme, Mr Attwood said Mr Larkin had "over-reached" himself on a number of occasions.
Mr Attwood said: "I think that when the attorney general got involved in the case involving Peter Hain, and so-called scandalising of a judge, contempt proceedings, when you see the attorney general suddenly appearing in a case in the European court involving a lesbian couple wanting to adopt a child in Austria, then I do think there are questions that have to be asked."
Mr Larkin was the first attorney general for Northern Ireland in nearly 38 years and is the government's chief legal adviser.
He also has responsibility for scrutinising legislation of the Stormont assembly, along with the appointments of the director and deputy director of public prosecutions.
His office did not want to comment on Mr Attwood's remarks.