Rural centre at Maze to go ahead despite deadlock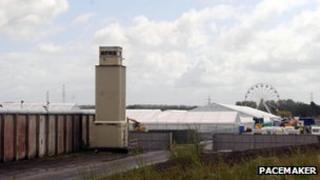 A centre of rural excellence is to be developed on the site of the former Maze Prison, despite a political block on the wider project.
The Maze Long Kesh Development Corporation and Royal Ulster Agricultural Society (RUAS), have signed an agreement about the centre.
Earlier this year, First Minister Peter Robinson stalled plans to build a peace centre on the County Antrim site.
The move caused tension between his party, the DUP, and Sinn Féin.
Mr Robinson had said there needed to be a broad consensus on how it would operate and what it would contain - and that is currently absent, in his view.
In September, Deputy First Minister Martin McGuinness said there could be no development of the wider Maze site unless it was on the basis of previous agreements about the building of a peace centre.
An EU funding programme later withdrew its offer of £18m in financial support for the peace centre.
The RUAS held its Balmoral Show at the site for the first time this year.
On Friday, RUAS chief executive Colin McDonald said they had ambitious plans for the venue.
"It's definitely a work in progress, this is another positive step. It gives us the chance to go forward with our proposals," he said.
BBC Northern Ireland agriculture reporter Richard Wright said the RUAS had been "left in something of a financial limbo" due to political disagreement over the future of the site.
"The RUAS has steered clear of the politics surrounding the Maze site," he said.
"But they must be relieved their plans could be separated from disagreements over the future of the site.
"With the development agreement for the Maze now signed, the pace at which the RUAS can pursue its other plans depends on cash flow out of the existing site in Belfast."
The Maze housed paramilitary prisoners during the Troubles from 1971-2000.
Ten republican prisoners died on hunger strike there.