Traditional musician Francis McPeake, 71, denies child sex charges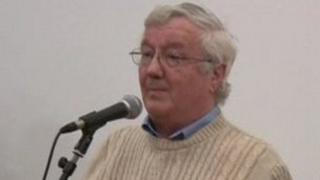 Irish folk musician Francis McPeake has been formally arraigned before Belfast Crown Court on charges of sexually abusing an underage girl in Northern Ireland and the Republic of Ireland.
Mr McPeake, 71, denies 12 charges of sexually abusing the child under the age of 16 from 2009 to 2010.
He is the head of one of Ireland's leading traditional music families.
He fled his home in the Markets area of Belfast in September after charges against him became public.
Mr McPeake is expected to go on trial next February.
The charges include counts of sexual activity outside the UK and inciting a child to engage in sexual activity.
All of them involve the same teenage girl, who was aged under 16 at the time.
Last month, when details of the case were published on Facebook and in a Sunday newspaper, riot police had to be called to Mr McPeake's home in the Markets, to disperse a crowd of about 60 people who had turned up on his doorstep.
Initially, when he appeared before Belfast Magistrates' Court, a temporary ban was imposed on identifying him. This was subsequently lifted. However, his new address cannot be published.
On Thursday, Deputy Recorder Judge Corinne Philpott QC, added to the order, to ensure the safety of the alleged victim. Nothing, she said, could be published or said that could lead to the identity of the teenager becoming known.