Roseann Mallon inquest: RUC men reject child bullying claims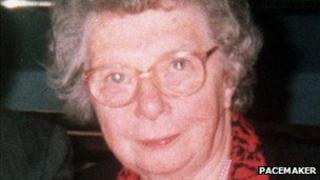 Police have rejected claims they bullied a 10-year-old boy into changing his statement over the 1994 murder of Roseann Mallon, an inquest has heard.
Mrs Mallon, 76, was killed when UVF gunmen opened fire on her sister-in-law's house near Dungannon.
The inquest was told on Thursday that Gareth Loughran, then aged 10, claimed he saw guns and Army packs in a shed close to where the murder happened.
He changed his statement the next day, after a visit by two RUC policemen.
In his second statement, he said most of what was contained in his first statement had been lies.
The murder is controversial because of allegations that the security forces colluded with loyalist paramilitaries in the shooting.
After her death, it emerged that the Army had been conducting a surveillance operation on a nearby house owned by Mrs Mallon's nephew.
The case is one of 29 controversial Troubles-related inquests that have been put on hold for a number of years.
Rejected claims
Earlier this week, Mr Loughran told the inquest sitting in Belfast that he felt as if the police were interrogating him. He claimed he was with them for two hours without his parents being present.
"They were trying to get me to change my statement," he said.
The two constables addressed the inquest on Thursday. They rejected the claims that they bullied the boy.
Asked whether the child's parents were present during the interview, David Stewart replied: "I cannot even recall being there myself, never mind his parents."
But he said this would not have been good practice, and was not practice.
Asked if the child was pressurised by repeated questions, Mr Stewart said: "Bullied him? I wouldn't do that on a 10 year old."
Ewan Ballantine told the inquest that he and Mr Stewart went to talk to Gareth to clear up any ambiguity and to make sure his statement was factually correct.
A barrister acting for Mrs Mallon's family asked him if the child had admitted telling lies.
"I've no recollection," he replied.
Mr Ballantine said that the suggestion that they spent two hours interviewing the child was grossly exaggerated. No parent would have allowed that to happen, he said.
Asked if it was "mission accomplished" when he "got the boy to retract", Mr Ballantine replied: "Absolutely not. That's factually incorrect."
The inquest is scheduled to last for two weeks.