Beatles in Belfast - It was 50 years ago today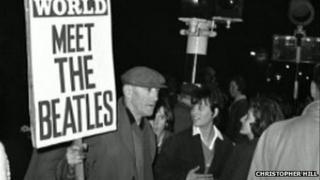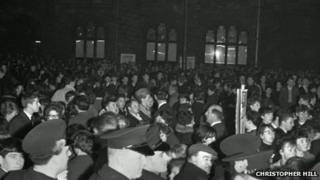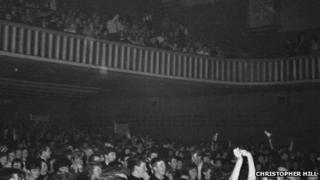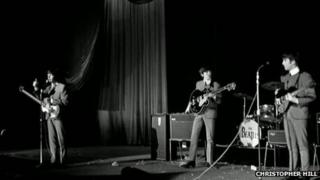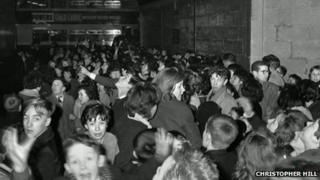 These were the scenes in Belfast city centre 50 years ago.
Thousands of screaming fans gathered outside the Ritz Cinema in Fisherwick Place to catch a glimpse of the band that was making people scream, cry and faint during their 1963 autumn tour.
Among the crowd was 13-year-old Margaret Flynn.
She was not able to get a ticket - but nevertheless, she wanted to soak up the atmosphere.
"My friends and I walked down the Grosvenor Road to the Ritz and were just met with a sea of people," she said.
"Screaming girls and lots of boys too - but of course we weren't getting anywhere near it. The police had crowd control and barriers everywhere."
One of the officers on duty that night was Evelyn - who remembers seeing girls crying on each others' shoulders and fainting.
She said there was a big security operation in the city centre. It was a great night for her because she was also a Beatles fan and got to see the Fab Four as they walked into the cinema.
She said one of them - she cannot remember who - even waved at her.
"I think I floated back to the station that night."
Others, like schoolboy Christopher Hill - now a professional photographer - queued up all night to get tickets a month before the band came to play. He got a seat on the second row in the middle and was able to capture some great photographs.
He ended up selling around 800 of them to local students.
"I had girls at the local schools who sold them for me without commission just for the glory of being able to sell these original Beatles photographs. People still bump into me and say, 'I remember the photographs I bought from you in 1963,' " he said.
One of those who still treasures one of those photographs is his friend Chris Maccabe, who was with him that night. The day after the concert he got his hair styled exactly like the Beatles.
He remembers it as being a time of change for Northern Ireland
"As I recall there were some protests from politicians and church leaders who felt the Beatles were breaking a mould that wasn't acceptable... Belfast was a very strict place and the Beatles brought a degree of fun, and I suppose broke down some barriers because they were extremely innocent and their songs at that time were very innocent too," he said.
For some, like Margaret, who didn't manage to see the Beatles this time, there would be success in the future.
The Beatles returned to Belfast in 1964 to play the Ulster Hall and, that time, she did manage to get tickets.