'Bad taste' Comber cemetery road sign changed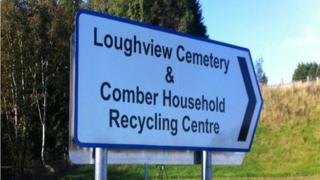 A road sign pointing towards a cemetery in County Down has been changed following complaints that it was in bad taste.
The same sign, put up by Ards Borough Council, also directed motorists to a new recycling facility outside Comber.
The issue was raised by a Stormont assembly member, who complained that combining the two facilities on a single sign was "highly inappropriate".
The council later apologised "for any upset the error has caused".
It promised that "more sensitive signage" would be put up.
While both facilities are on adjoining sites, the new directions are erected on the same posts but on separate signs.
UKIP assembly member David McNarry said he was pleased that the sign had been changed.
"I think the council have acted responsibly and fair play to them - it was totally insensitive," he said.
"A couple of wags had been saying, 'if they don't bury you, they'll recycle you', but people were sensitive about it.
"It was something that just needed a bit more care and attention - somebody just didn't think, but it's important to have respect."