Alzheimer's patient, 76, waited on trolley in rain for 15 minutes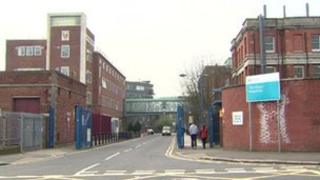 A 76-year-old woman with two broken knees and early onset Alzheimer's was made to wait on a hospital trolley for 15 minutes at night in the rain.
Josie McIlvenny, from Newcastle, County Down, also has hearing and sight problems.
She was being transferred between the Royal Victoria (RVH) and Musgrave Park hospitals in Belfast.
Her husband, John, said he was disgusted at her treatment, and was "afraid" to go to see her the next day.
Her son-in-law Mark Flynn told BBC Radio Ulster's Nolan Show: "She wasn't notified of what was happening, she had no dentures in, no hearing aids, no glasses, so she couldn't see, she couldn't talk and she couldn't hear, so she was petrified.
"The information we had given her earlier was that she was being transferred to a nursing home for rehabilitation.
"It was a really bad night, horrendous weather, and when they got to Musgrave Park the doors were locked.
"She had to wait 10-15 minutes in the rain until somebody came to open the door. The ambulance men put a blanket over her face to stop the rain hitting her.
"The feedback I'm getting was that she was just picked out of a hat. Nobody came to visit her and her care management notes have either been misplaced or lost.
"I told the director I spoke to that you wouldn't treat a dog like that, never mind a human being."
Mr McIlvenny said: "I am utterly disgusted, I'm heartbroken.
"Prior to this, Josie was in fantastic form. For having two broken knees, she was in good form.
Operation
"I said (to the hospital) I'm afraid to go in the next day to see how she had deteriorated with the treatment you had given her."
Mrs McIlvenny had been moved because the RVH needed a bed.
She had been taken to the hospital about four weeks ago after a fall. After a six-hour trolley wait at the accident and emergency department, she was admitted for an operation for two fractured legs.
On the day before she was transferred to Musgrave Park her family had been told she was being discharged to a nursing home for a period of rehabilitation.
The family got a call at 07:00 GMT the next morning to say that Josie had been transferred after midnight to the Musgrave Park Hospital.
Mr McIlvenny, who is waiting for treatment for a heart condition, said: "She was treated unbelievable.
"Whenever I met Dr Tony Stevens (medical director of the Belfast Health trust) he said 'I hold my hand up, I'm sorry we made a mistake'.
'Utterly disgusted'
"He said there were two cock-ups made. 'Number one, your wife was not clinically fit to be moved, but they moved her. Number two, the way she was moved was utterly and completely wrong, we apologise'.
"We needed the care notes to give to the nursing home for assessments, but they told us they had disappeared.
"Then, on the Wednesday afternoon a pharmacist from Musgrave Park rang me at home to ask me what was Josephine's medication.
"I am utterly disgusted, I'm heartbroken. I'm waiting for an angiogram and I've been told to take it easy, don't get worried. I said how can you say that to me after what you have put us through."
Dr Stevens said the hospital was reviewing the timing and nature of the transfer.
"I accept that Josie wasn't the correct sort of patient, or the best sort of patient, to move at that time," he said.
"Belfast Trust was under significant pressure that night in its emergency department with patients who needed placed in beds in the Royal.
"We asked our fracture team, and other teams, to identify patients who might be moved to other hospitals in the system.
"Josie was identified as an individual who could move, who was medically fit to move, and was included amongst a small group of patients who were moved to Musgrave, albeit late at night.
"She was waiting to be discharged to a nursing home so the issue of her moving I don't think is the issue, it was the time and the nature of the move."
He added: "I admit that on the night our selection of patients to move wasn't as good as it should have been.
"We have learned from this, very quickly. We have made transfers to Musgrave Park since then and we've done it in a completely different way."