Matt Baggott urges action over alcohol-related crime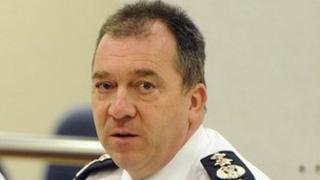 Chief Constable Matt Baggott has urged politicians to do more to tackle the misery caused by alcohol.
He was speaking in Omagh where he praised the community's response in helping to keep the town safe at night after the deaths of two young people.
Matt Baggott said one in five crimes in Northern Ireland were alcohol related, and 61% of street violence involved alcohol.
He described the statistics as "frightening, phenomenal and horrific".
Jason McGovern, 19, from County Monaghan and Darren McBrearty, 28, from Omagh, County Tyrone, both died after being assaulted during nights out in Omagh in the past year.
Mr Baggott said he believed politics had got in the way of addressing some of the strategic issues around alcohol.
"There are some big problems in Northern Ireland, but I have to say to you things like flag protests and all that get put in perspective when we see what we see in terms of broken lives and sometimes how the lack of consensus takes policing away from the things that really matter, which is actually being on the streets helping young people to be safe," he said.
Referring to his 37 years as a police officer, he said he had lost count of the misery that he had had to deal with because of alcohol "from the lost lives, the blighted futures, the families that are broken because of it, and what does it cost? 32p for a tin of beer?"
He called for the police to be given pre-emptive powers to close problem premises before violence breaks out, and for a debate around a minimum price for alcohol.
He also praised Omagh Policing and Community Safety Partnership's Safer Streets initiative.
It has trained volunteer "street angels" to help people get home safely, by handing out hot drinks and providing first aid and shelter.
"Having seen what's been going on here in the last few months and how people have taken tragedy and turned it into something of hope and the street safe scheme, it's massively impressive," he said.
"What you are doing here isn't just fantastic in terms of the town centre, but it's pushing those in authority to do more about alcohol and to leave aside the things that don't matter and put in place the things that really do matter for a change."