NI workers face drop in value of wages for sixth year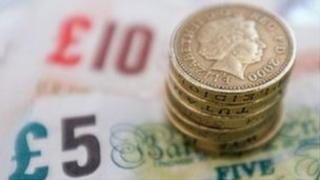 Northern Ireland workers face a drop in the real value of their wages for the sixth year in a row, according to a new report.
The UK-wide study by PricewaterhouseCoopers (PWC) predicts that it will be 2015 before there is "positive growth" in salaries.
Housing and utility bills are squeezing incomes most of all and account for 26% of family budgets.
PWC said consumers are also spending less on food and alcohol.
However, outlay on overseas holidays is showing some recovery as the economy picks up.
The report said between 2008-2012, the average value of earnings across the UK fell by 1% per annum.
The percentage of expenditure on housing and utility bills is now twice what it was in 1963 and could likely get worse.
"We do not expect positive real earnings growth to resume until 2015 and even then only at a modest pace," said Esmond Birnie, PWC chief economist for Northern Ireland.
"Consumers will remain highly-price conscious as online retailers and high street discount stores take an increasing share of the market."
He also said Northern Ireland should experience economic growth in 2014 of 1.7%
However, this is the lowest of 12 UK regions.
"There is now much stronger evidence of UK economic recovery but there are likely to be bumps along the road and Northern Ireland should be prepared for this," said Mr Birnie.