Politicians and trade unionists in London over Coleraine DVA jobs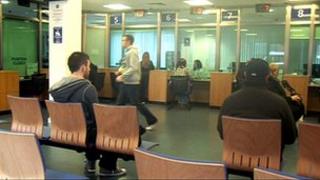 Political and trade union representatives are to hold a series of meetings in London later in a effort to save 300 jobs at Northern Ireland's Driver and Vehicle Agency.
They will meet Transport Minister Robert Goodwill and address the Northern Ireland Select Committee.
Most of the jobs are based at the DVA's Coleraine office.
The delegation will also hand over a petition signed by 20,000 people in support of the workers.
The coalition government is planning to move the jobs from Coleraine to Swansea in Wales in an attempt to centralise the service and save money.
Ryan McKinney of NIPSA said it was "illogical to proceed with such a huge centralisation process".
"The people of Coleraine and the people of this part of the world are going to defend these jobs," he said.
"It's going to have a significant impact on the local economy, a knock-on impact for people, whether they work in the private sector or the public sector, as a consequence of removing at least 300 jobs from the local economy.
"So if he (Goodwill) thinks he's going to make a decision that will have no political consequences for him then he's wrong."
On Wednesday, Environment Minister Mark H Durkan met Mr Goodwill in London as part of his campaign to retain the jobs in Northern Ireland.
Mr Goodwill joined the coalition government last month, when he was appointed as Parliamentary Under Secretary at the department.