Gerry Adams' US trip break from pressure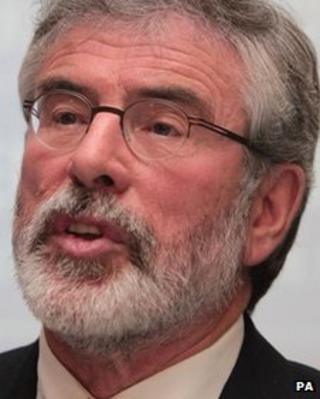 So Gerry Adams is flying off to the US to "brief the US administration on the political situation in Ireland" and the need for continuing American engagement in the peace process.
According to his Twitter feed, despite his frequent visits over the years, he is still selected for a "special security search".
That might be a minor inconvenience, but one would assume that the transatlantic trip would provide a break for the Sinn Féin president from the build-up of pressure in recent weeks.
First there was the conviction of his brother Liam for raping and abusing his niece Áine.
Then came the decision to call in Attorney General John Larkin to examine allegations that he had withheld information about the case.
Then there was Darragh MacIntyre and Alison Millar's powerful televised elegy to the Disappeared, which focused renewed attention on Mr Adams' denial of involvement in the disappearance of Jean McConville, a widowed mother-of-10.
The Sinn Féin president has broad shoulders and a reputation for walking away unscathed from allegations that would have sunk more conventional politicians.
Mr Adams topped the poll in Louth in February 2011, two years after journalist Chris Moore brought his niece's case to attention and after reporter Suzanne Breen exposed inconsistencies in his account of his relationship with his brother.
As of the start of October, Mr Adams had an approval rating of 29%.
This is behind Taoiseach Enda Kenny but ahead of Fianna Fáil's Micheál Martin and Labour's Eamon Gilmore.
Allegations
Whilst this rating might pre-date the cross-border transmission of this week's Disappeared documentary, it comes more than a decade after Ed Moloney's book, Secret History of the IRA, linked the Sinn Féin leader to an IRA unit of "unknowns" allegedly tasked with the grisly work of trying to cover up the murders on a permanent basis.
Those claims have since been added further weight by the broadcast and publication of more claims from the now-deceased IRA members Dolours Price and Brendan Hughes - allegations rejected again by Mr Adams this week as lies.
On a political level then, the drip drip of allegations doesn't appear to have put voters off backing the veteran Sinn Féin president.
Mr Adams celebrated his 65th birthday this year. Every time I have raised the possibility of standing down with him in recent years, he has rebuffed the notion that he might prefer to concentrate on writing books.
The more that opponents like the DUP's Edwin Poots seek to make capital out of Mr Adams' difficulties, the more it is likely to bolster his position within his own camp.
However, there are other dynamics at work.
Centenery
Given Mr Adams' and Sinn Féin's ambitions to expand further in the south, it is only natural commentators should start looking towards other TDs like Mary Lou McDonald or Pearse Doherty as potential leaders in waiting.
Mr Adams' denials of IRA membership - which fellow republicans might once have viewed as a necessary expedient in a war situation - are increasingly making him an object of derision, even to some within his own tight-knit community.
More than that, even if the substance of the latest allegations is not new, there could come a point when the folk memory of Mr Adams as Sinn Féin's 'Mandela' fades, while the public image of evasive appearances on the TV persists.
Given the impending centenary of the Easter Rising, it is often conjectured that the Sinn Féin president would like to carry on at the helm of his party until 2016.
Whatever happens between now and then, he will want to determine his own destiny rather than appear to be buffeted by his critics into a hasty departure.