Woman in court challenge over exclusion from abuse inquiry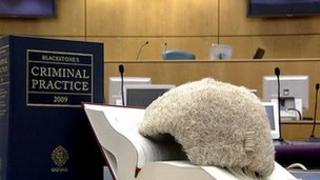 A woman allegedly molested in foster care has launched a High Court challenge to being excluded from a Stormont inquiry into historic abuse at children's homes.
Her lawyers argued that it was wrong to decide that her case did not qualify.
The woman at the centre of the legal challenge cannot be identified.
She says she was abused after being taken into care and put into a foster home by the Foyle Health and Social Services Trust in the early 1990s.
Although she wanted to participate in the inquiry, she was informed earlier this year that her case did not fall within its terms of reference.
Seeking to judicially review that decision, her barrister contended it was the state who placed her into foster care.
A judge was told others who claim they were abused while being fostered will also want to be involved.
The inquiry, announced by the Northern Ireland Executive in 2010, followed a damning report in the Republic of Ireland into decades of abuse in some religious institutions.
Headed by retired judge Sir Anthony Hart, it is examining claims of abuse in children's homes, care institutions and borstals between 1922 and 1995.
Similar challenges
The woman's lawyer said that the inquiry is looking into any alleged failings by institutions or the state.
He said: "The state cannot absolve itself of responsibility. That would fall squarely within the terms of reference of the inquiry."
He also predicted other similar legal challenges will follow.
"The individual in this case will not be the only individual in foster care who alleges he or she has been abused and wishes to participate in the inquiry," he said.
"It's something that will come back before the court."
Counsel for the inquiry argued, however, that foster care cases were never intended to be part of its remit.
She said a distinction has always been made between that type and residential care cases.
"We would argue that she (the applicant) does not come within the terms of reference of the inquiry," the barrister added.
Following submissions the application for leave to seek a judicial review was adjourned for three weeks.