Roseann Mallon inquest told Army tapes were wiped after UVF murder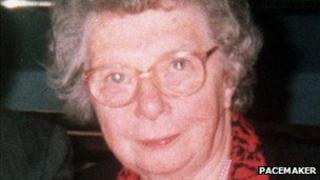 Army surveillance tapes that could have recorded the paramilitary murder of a pensioner 20 years ago were wiped, an inquest into her death has been told.
Roseann Mallon, 76, was killed when loyalist gunmen opened fire on a house at Cullenrammer Road, Dungannon, County Tyrone, in May, 1994.
Months later, an Army surveillance camera was found close to the scene.
But a barrister representing her family told the inquest: "These tapes were wiped. Almost entirely."
According to the barrister, scraps of edited recordings were retained but the bulk of footage from the day of the shooting and the previous three weeks were destroyed.
Ms Mallon was shot multiple times in the attack, which was carried out by the Ulster Volunteer Force (UVF).
Her death was controversial because it later emerged the Army was conducting a surveillance operation on a nearby house owned by her nephew.
'Need to know'
Her inquest at Belfast's Laganside court complex also heard how the police officer leading the hunt for the UVF killers was not told about the covert Army operation that had been filming the Mallon house since April 1, 1994.
Kenneth McFarland, a former Royal Ulster Constabulary (RUC) detective chief inspector, said he only found out about the camera after being contacted by a solicitor two months after the attack.
Mr McFarland, who retired in 2002, said he had requested information from RUC Special Branch but was informed they had nothing that could assist his case.
He said: "Special Branch operated on a need to know basis. If they felt you did not need to know it, you didn't know it."
Claims of security force collusion were made after the unmanned camera was found concealed in a field overlooking the house and adjacent engineering workshop used by Ms Mallon's nephews Martin and Christopher.
'Frustrated'
It transmitted footage to soldiers in a nearby wood.
A number of people, including loyalist paramilitary Billy Wright, were arrested and questioned in the wake of the shooting but no one has ever been charged with Roseann Mallon's murder.
Mr McFarland said he had been frustrated by the lack of co-operation from Special Branch and had been keen to locate the camera.
"It was taken as read this was an undercover operation. From my point of view the important (thing) was to get my hands on the camera to see if it could assist me."
He later added: "I felt frustrated. I would have liked all the evidence at the time."
When asked by the Mallon family's barrister if it was "indefensible" that the recordings were never handed over, Mr McFarland replied: "I would have thought the best course of action would have been to provide my team with the tapes."
However, the retired officer said he did not believe his inquiry had been critically undermined.
'Stashed guns'
Earlier, the court heard a claim that the RUC pressurised a 10-year-old boy into changing a police statement he made about having seen guns close to the murder scene on the day before Ms Mallon's killing.
The boy, Gareth Loughran, claimed at the time to have seen guns and army packs stashed in an old mill near the Mallons' houses.
Mr Loughran, now an adult, testified to the inquest that two RUC detectives visited his own family home on the day after the murder and questioned him about his claim.
"It seemed to me at the time they wanted me to say I hadn't seen anything," the witness told the Coroner's court.
Mr Loughran was a neighbour of Ms Mallon and a childhood friend of one of her relatives, Barry Rafferty.
He described how, as a 10-year-old boy, he had gone to the old mill with Barry Rafferty with the intention of building a hut.
Mr Loughran said when he opened a bolted shed door, he saw military-type rucksacks and about five or six guns leaning up against the wall.
The boys were then confronted by a man in camouflage-type clothing who told them to leave the area, the inquest wad told.
'Lied'
The children reported their discovery to their parents and were taken to their local police station the following day, Sunday, 8 May 1994, to make statements.
That night Ms Mallon was shot dead.
On 9 May 1994, two RUC detectives visited the Loughran family home and spent two hours interviewing Gareth about his statement.
He told the inquest: "They just kept repeating the question."
Later he added: "They went over and over it again until they made me doubt myself. They made me think I hadn't seen anything."
After being questioned by the two RUC men, the 10-year-old Mr Loughran then made a second statement in which he said he had lied about what he had seen at the mill.
His mother, Sheila Loughran, told the inquest she was unaware the police officers who visited her home had been interrogating her son.
'Upset'
Mrs Loughran, a nurse, said neither she nor her husband had been present for the interview because she had thought the officers just wanted to clarify a few points.
She added: "Roseann had died. The dynamics had changed. Everybody was upset."
Mrs Loughran told the court she had accepted without question the authority of the officer who said that her son had lied.
"Twenty years on I wouldn't, but then I would," she said.
The inquest is scheduled to last for two weeks and is expected to hear from two Special Branch officers whose identity has not been made public.
A number of soldiers also due to give evidence have been granted anonymity despite objections from the Mallon family.
The case was among 29 controversial Troubles-related inquests awaiting a full hearing.