Depp and Murphy enjoy drop of the black stuff in Ireland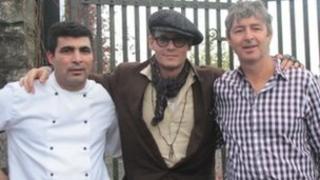 It is not every day you spot two movie stars having lunch in an Irish pub.
That's what happened when A-list celebrities Johnny Depp and Cillian Murphy dropped in for a bite to eat at Weirs Bar and Restaurant in Multyfarnham.
Diners thought they had joined the set of a Hollywood movie when they glimpsed the heartthrobs in County Westmeath.
The pair were accompanied by American author JP Donleavy, who lives in Mullingar, as well as film director Bob Mitchell.
Bar owner Pat Weir said he had heard Depp might call in, but took it with a pinch of salt.
"JP Donleavy's son, Philip, booked a table," he said.
"Philip Donleavey would often drop in with a few of his friends when they are staying on a Saturday.
"But for him to book a table for eight caused an eyebrow to rise."
Pat who runs the pub with his wife, Una, said the film stars caused quite a bit of a stir among the regulars.
"We've a busy Sunday lunch trade and this was about 2.30pm when they walked in," he said.
"Everybody just looked, nobody paid any particular heed. Nobody got off their stool.
"The lads went in and sat down, ordered lunch and of course everybody came to me and said: 'Can we get an autograph, what's the story?'".
Over the course of his career, Depp has charmed audiences in everything from Edward Scissorhands to Pirates of the Caribbean.
In his latest film, The Lone Ranger, Depp plays Tonto alongside actor Armie Hammer as The Lone Ranger.
Murphy's best-known roles include the scarecrow in the 2005 superhero film Batman Begins, Breakfast on Pluto and the 2010 blockbuster Inception.
However, both made time to pose for photographs with the Westmeath locals as well as sign autographs.
Pat said: "The two of them, you couldn't have asked for more, they were absolutely fabulous.
"They gave everybody the time of day, gave autographs, checked with my two daughters on how to spell their name.
"It's funny when you have a nine-year-old correcting the spelling from somebody like Johnny Depp."
And the stars stayed for more than one pint of the black stuff after they had finished their meal.
"We thought they were in a hurry, but when they had finished the meal they ordered another round," said Pat.
"So they had two or three pints each, they were nice and chilled, lovely and relaxed. The beauty of it was the room was completely full, nobody went over to annoy them."