Man arrested as illegal poitín distillery found in Cavan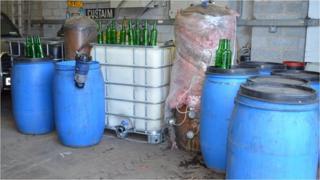 An investigation is under way after a large alcohol distillery was seized in County Cavan in the Republic of Ireland.
Officers from the Irish Revenue Commissioners uncovered the poitín-making facility close to Ballyconnell.
About 2,000 litres of alcohol liquid wash, 900 bottles, two copper cylinder tanks with fittings, seven 200-litre barrels and one pump were found.
A man in his 40s is being questioned.
Poitín is a traditional Irish alcoholic drink.
It is usually distilled from malted barley, grain, potatoes or whey.