BMA: Northern Ireland must stem loss of junior doctors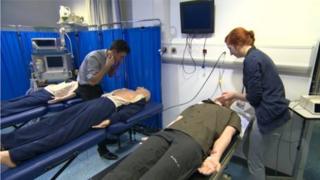 The government must do more to stop junior doctors from leaving Northern Ireland to work abroad, the British Medical Association (BMA) has said.
It said part of the problem is that junior doctors working in the UK are facing increasingly challenging and highly pressured work environments.
This forces some to move overseas where conditions are more favourable, according to the BMA.
NI chairman, Dr Paul Darragh, said the drain on local talent is immense.
'Too tough'
"Our education and training is among the best in the UK. After spending a lot of money training up that pool of talent, eventually some leave to work elsewhere," he told the BBC.
"Some of those young people reluctantly leave but conditions here are just too tough.
"While doctors must be prepared to deal with the worst, the argument is that if more were employed per shift patients would receive an even higher standard of care and there would be fewer mistakes."
Queen's University School of Medicine in Belfast is ranked as one of the best in the UK.
Almost 84% of the students who graduated from the school in 2012 opted to begin their careers in Northern Ireland.
Just over 12% of them took up employment in Great Britain while almost 2% secured jobs in the Republic of Ireland.
However, evidence shows that several years after graduation, many junior doctors are moving away to work elsewhere, for instance, emigrating to Australia.
'Virtual ward'
Currently, there are 270 medical students preparing to graduate next year from Queen's University School of Medicine.
One of the highlights of the Queen's course is the simulator exercise where final year students get to experience life on a virtual ward, as actors take on the role of patients.
The 45-minute exercise begins with a ward round then the drama unfolds.
In one scenario, a female patient who is a chronic asthma sufferer goes into cardiac arrest. The medical student is required to react as they would in a real life medical emergency.
Chest compressions begin, chest x-rays are ordered, antibiotics are prescribed and nurses are given instructions. Not all necessarily in that particular order.
The clinical director of the course is Dr Jim Murray.
'Call for help'
"We make students aware of what is going on around them. They shouldn't get too focused on one particular task and miss things in the wider picture," he said.
"We teach them to be decisive, to prioritise, to ask for help to call for help when required - these are all human factors which are far more important in mitigating error or the effects of error," Dr Murray added.
In cubicle three, the patient loses consciousness. He has been admitted to A&E after being hit by a golf ball.
A student is tasked to find out what is wrong and to respond. Even though it is just a simulation, the effect is powerful.
Among the students is Adam Gowdy. "Yes it's scary - but it's what I want to do," he said.
"The whole point of our training is to prepare for this type of scenario - next year it won't be a simulator, it will be the real thing.
"Yes that's scary but we are constantly training and next year will be shadowing junior doctors on the wards for 10 weeks."
'Stressful'
The BMA argues that the UK, and in particular Northern Ireland, trains the best of medical students. Therefore changes need to be made if the UK wants to retain them.
Speaking recently, Dr Mark Porter, BMA Chair of Council, said: "Doctors in the NHS face increasingly challenging, high pressured and stressful work environments, often with limited resources and gruelling workloads.
"Unsurprisingly, the result has been more doctors choosing to leave the UK to work abroad. In some specialties, such as emergency medicine, this has contributed to a recruitment crisis and means existing doctors have to work flat out to meet rising demand," Dr Porter said.
"To stem this problem we urgently need to address issues around workload pressures, resourcing and work-life balance. Only by making working practices and environments safe and sustainable will the NHS be able attract and retain the best and brightest."
Dr Murray said it is important to remember that the students are humans, not robots.
"We are human beings, we all make mistakes but this is how we prepare them for the times when they will be stressed and interrupted.
"This is excellent training among the best in the UK - but we must try and hang on to this great pool of talent."
Dr Paul Darragh agrees.
"The working conditions must be improved. Other countries abroad can do it - so must we."