Henry Christopher Marley 'crashed into two parked cars'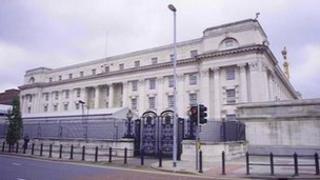 A man who is banned from driving for life allegedly took his partner's car and crashed it into two vehicles before fleeing, Belfast High Court has heard.
Henry Christopher Marley looked so drunk when he left the scene that he did not know what he was doing, according to a witness.
The 31 year old, of Riverdale Park South in west Belfast, was said to have admitted involvement but claims to have acted under duress.
The judge refused his bail application.
Mr Marley faces charges of aggravated vehicle taking, driving while unfit, driving while disqualified, failing to report or remain at the scene of an accident and possession of class C drugs.
Wedged
The court heard he is alleged to have crashed into two stationary cars near his home in March this year.
A prosecution lawyer said the vehicle the accused was driving was wedged between one of the parked cars and a garden wall.
"A witness confirmed the driver was very much under the influence of drink or drugs. He appeared so drunk he didn't know what he was doing," she told the court.
It was alleged that the driver left the scene with the keys.
Mr Marley was arrested after police traced the car to the home of his partner, who said she was unaware he had taken it, the court heard.
The prosecution lawyer said five blue tablets, later confirmed as diazepam, were found on the accused when he was detained by police.
During interview he claimed to have taken the car because he feared for his life.
'Unacceptable delay'
A defence barrister said her client had made admissions but intends to raise a defence of duress at trial.
She argued that Mr Marley should be released when a suitable address is available, due to the length of time being taken to progress the case against him.
The defence barrister added that the delay was unacceptable.
But the judge refused the bail application after being told a preliminary enquiry hearing will be held later this week.
He said: "The balance comes down in favour of not granting bail in this case."