Pair charged with ATM theft in Newry, Banbridge and Belfast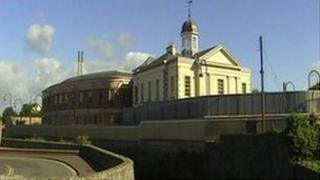 Two men have appeared in court charged in connection with stealing money from cash machines.
Marian Ciobancia, 32, and Vasile Orbisor, 27, faced 88 charges including theft, criminal damage and possession of articles for use in frauds.
The thefts were from at least 15 ATMs in Newry, Banbridge and Belfast between 26 October and 1 November.
Both men have addresses in Dublin but are originally from Romania and spoke through a translator. Bail was refused.
The court was told one of the men had used the internet to research how to carry out the cash machine theft.
It was claimed the men had installed a device in the money tray that collected cash belonging to ATM users.
Both men were arrested on Friday in a car in Lisburn.
The court was told police found articles, including money, linking them to the thefts, and CCTV footage showed the men collecting money from the ATMs.
The men were remanded in custody to appear in court again later this week.