Bomb found as PSNI use drone for security alert search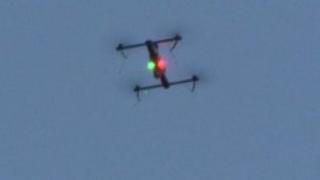 The Army has defused a bomb during a security alert in Ardoyne, north Belfast.
The alert began in Jamaica Street on Monday afternoon. Local people told the BBC that an object was thrown at two men in the street at around 14:30 GMT.
A PSNI spokesman said the "small viable device" was made safe by the Army and taken away for further examination.
During the operation police used a remotely controlled drone to carry out an aerial search of the area.
It is the first time that the PSNI has deployed a drone since the G8 summit in County Fermanagh in June.
'Aerial capability'
A number of houses in Jamaica Street were evacuated during the alert and part of the road was sealed off.
Residents have now been allowed to return to their homes and traffic restrictions have been lifted.
Sinn Féin councillor for the area, Gerry McCabe, said the device was a pipe bomb and condemned those responsible for the attack.
"Yet again we have had families forced to leave their homes because of an explosive device in north Belfast.
"Those behind the use of these devices need to seriously think about what they are doing. All they have achieved is further disruption for this community," Mr McCabe added.
A PSNI statement said "a limited aerial capability was required" during the Ardoyne alert "in order to keep the community, police and Army officers safe".
"The police service obtained approval to purchase Unmanned Aerial Systems (UAS) earlier this year," the statement added.
"These systems are flown in accordance with Civil Aviation Authority approval."
'Evidence gathering'
The drones that the PSNI use are small aircraft, with a maximum wingspan of around 10ft.
They are operated by a member of PSNI Air Support Unit who has undertaken CAA-approved training and who remains in line of sight of the drone.
The drones can be used by the police to help traffic management, searches for missing or wanted people, public order situations and for evidence gathering.
As the alert ended on Monday evening, a PSNI spokesperson said: " The use of an Unmanned Aerial System assisted in this clearance operation and minimised disruption to the local community by bringing the incident to a safe and satisfactory conclusion."