John Compton set to retire as Health and Social Care Board chief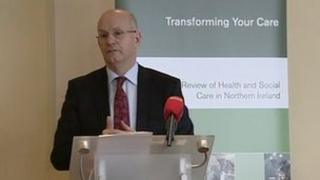 The chief executive of Northern Ireland's Health and Social Care Board is to retire next year.
John Compton, who has held the position since 2009, is expected to leave in March.
Since taking up the post, he has been at the forefront of shaping health and social care in Northern Ireland.
He is the author of Transforming Your Care, the document that set out the road map for change to the local health and social care system.
Included in the document was the plan to move hospital services out into the community.
'Dedicated service'
More recently, Transforming Your Care also led to the controversial debate over the potential closure of care homes for older people.
Earlier this year, Mr Compton was awarded the CBE in the 2013 Queen's birthday honours list.
The Health and Social Care Board has paid tribute to its outgoing chief executive, saying he had given "40 years of dedicated service to health and social care in Northern Ireland".
The board's chairman, Dr Ian Clements, said that during his career, Mr Compton had made a huge contribution by "driving forward change and making a difference in people's lives".
"Most recently, he was the driving force behind the Transforming Your Care review which is one of the most significant reforms of health and social care in decades, aimed at ensuring Northern Ireland has safe, high quality, patient and client centred health and social care into the future."
'Challenging role'
The chairman added that Mr Compton's recent CBE award was "a fitting acknowledgement of a lifetime of dedication to the health and social care of our community".
Health Minister Edwin Poots said: "Through his strong leadership and his deep understanding of the issues, John Compton has written a place for himself in the history of health and social care in Northern Ireland.
"Under his deft stewardship as its first chief executive, the Health and Social Care Board undertook the challenging role of delivering safe and sustainable health care services to everyone in Northern Ireland.
"In 2011, he led a comprehensive review of how we deliver those health services to a growing and ageing population.
"We are now following a path of reform which was originally mapped out by John and his team in Transforming Your Care," Mr Poots added.