Peter Robinson rules out bus and rail privatisation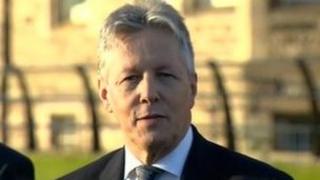 The First Minister has said the Stormont Executive has no intention of privatising rail and bus services in Northern Ireland.
Peter Robinson said it was important that people continued to get value for money when they use public transport.
He was speaking after a report by the Regional Development Committee recommended that private operators be allowed to tender for running services.
The report said that should include the planned Belfast Rapid Transit.
Peter Robinson and North Belfast MP Nigel Dodds met members of the UNITE union at Stormont who lobbied politicians against privatisation.
UNITE regional secretary, Jimmy Kelly, told the BBC that "we are proud of our service and we are here to protect it".
He also said that his members viewed the report "as the start of privatisation".
DRD committee chair Jimmy Spratt criticised the reporting of leaks of the report saying it was "spurious" to suggest it backed the privatisation of Translink.
Regional Development Minister Danny Kennedy said he was against any suggestion that services should be put out to tender.
Mr Kennedy said: "The committee's privatisation suggestion would inevitably result in widespread service cuts, something I am not prepared to support."
He said he was "disappointed with the quality and thrust of the report" and could not support it.