Martin McGuiness says Brady and Adams cases 'not the same'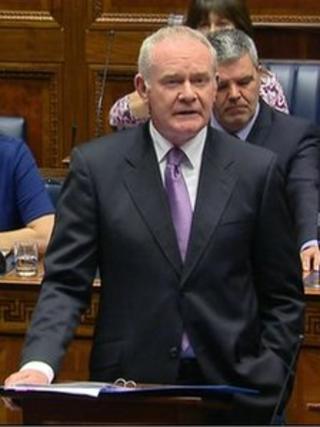 Martin McGuinness has said there was no similarity in how Cardinal Séan Brady and Sinn Féin president Gerry Adams dealt with allegations of child abuse.
The deputy first minister was speaking during assembly questions.
The DUP's Mervyn Storey reminded Mr McGuinness that he had called for Cardinal Brady to "do the right thing".
Mr McGuinness' comment came after a BBC documentary last year said the cardinal failed to act on allegations about paedophile priest Fr Brendan Smyth.
Support
Mr Storey asked if, following the same logic, the deputy first minister now believed Gerry Adams should resign as Sinn Féin president to ensure transparency and openness about the abuse of children.
Mr McGuinness said Mr Adams had made public the role he played in relation to a complaint from his niece Áine that she had been abused by her father Liam.
Liam Adams was convicted last month of raping and abusing his daughter.
The deputy first minister said both the RUC and the social services had been first told about the allegations in 1987.
He added that Gerry Adams had supported his niece when she reported the abuse.
"In the case of the cardinal, a child was sworn to secrecy," Mr McGuinness told the assembly.
"In Gerry Adams' case, Gerry Adams was fully in support of his niece, travelled to Buncrana, confronted his brother and supported his niece and her mother when she reported the abuse to the social services and to the RUC," he said.
Mr McGuinness added that, in many ways, the entire family, including Gerry Adams, were victims given the abuse perpetrated by his father, Gerry senior.
What was happening to the family was "terribly, terribly wrong" he said, adding that the two situations were "not the same".
However, SDLP MLA Alex Attwood said the Sinn Féin president has "growing questions to answer" over his handling of the sex abuse case.
"It is intolerable that any person, party or organisation fails to account for their actions around child abuse.
"That was the case for the Catholic Church before. It is no less the case for Sinn Féin today," Mr Attwood said.
The SDLP representative questioned why Gerry Adams did not alert his brother's employers, given that Liam Adams continued to work with young people after Áine Adams said her father had abused her.
Mr Attwood claimed the safety of children was put at risk because "Liam Adams worked for 10 years in four different community projects in West Belfast and Louth".
"Those responsible and those who did not do all to protect children should be held to account, be it those in terror groups or the RUC who knew and failed to protect," he added.