Retailers oppose Green Pastures shop development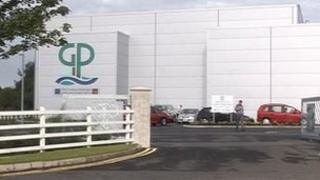 Independent retailers have formally objected to part of a major development being planned by a Ballymena church.
Green Pastures church owns a 97-acre site at Ballee, on the edge of the town, where it has proposed a scheme to include houses, a hotel, a nursing home and a 67,000 sq ft supermarket.
The NI Independent Retail Trade Association (NIIRTA) has said it "strenuously objects" to the retail element of the scheme.
In a letter to the Planning Service, NIIRTA stated that the proposal would damage the town centre as well as other village centres in the Ballymena area.
NIIRTA said the supermarket would most likely be occupied by Asda, as Ballymena already has large Tesco and Sainsbury's stores.
Its letter claimed that the retail scheme breached several planning policies, mainly those aimed at protecting town centres.
It stated that a supermarket at the location was "neither assisting Ballymena town centre nor serving the majority of people in Ballymena, because of its peripheral location".
It added that the town centre and its two shopping centres are "already suffering from the Tesco and Sainsbury's superstores, which are edge of centre sites located outside the town centre at the Larne Road".
However a retail study complied for Green Pastures said that the scheme would "enhance choice and competition" and that the loss of trade experienced by the town centre will be "within acceptable limits".
It estimated that the development would "divert" about £8m annually from the town centre - equivalent to about 6% of trade.
It added that the development's main impact would be on the nearby Tesco and Sainsbury stores, estimating a diversion of about £20m - equivalent to about a third of their trade.
Project Nehemiah
The Green Pastures church was founded in 2007 by Pastor Jeff Wright, a member of the Ballymena bus-building family.
It has a regular congregation of about 900 people.
The new complex will be known as Project Nehemiah, named after the Old Testament figure who rebuilt Jerusalem.
It consists of three separate planning applications and the NIIRTA objections relates to just one of those.