Galgorm Resort gets planning permission for extension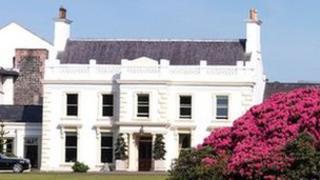 The Galgorm Resort and Spa in Ballymena has been given planning permission for a major new extension, creating 60 new jobs in County Antrim.
The Department of the Environment has given the go-ahead for 48 new bedrooms and a new leisure complex including a swimming pool and gym.
It is hoped the extension will be completed in 18 months.
The resorts operations director, Paul Smith, said the development will be a boost for jobs in the area.
"We advertise locally all our positions and it will certainly be our intention to give everyone the opportunity to apply for those positions because a huge number of our staff are from the local area and further afield, Belfast, Coleraine direction."
"It would be our intention to employ as many local people as possible."
Environment Minister Mark H Durkan described it as "good news" for Ballymena and the surrounding area.
"The new addition to this award-winning resort will benefit tourism in mid-Antrim, providing high quality accommodation in an area that is the gateway to the Glens of Antrim and the scenic north coast," he said.