Ulster Unionists renew call for NI mental health centre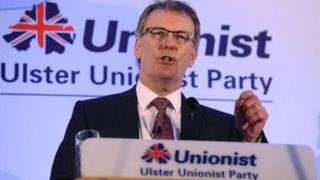 The Ulster Unionist Party is to call on the health minister to support the creation of a new "international mental heath centre" in Northern Ireland.
The party is due to propose the motion at the assembly on Monday.
It said Troubles-related violence has been "a distinctive cause of mental health problems" in Northern Ireland.
The motion is to be proposed by the UUP leader, who recently suggested funding for the stalled Maze peace centre should be used for a trauma centre.
Mike Nesbitt unveiled his proposal at his annual party conference last month.
He suggested Ormiston House in east Belfast as a possible venue for the new trauma centre, saying it would cost a fraction of the £18m EU funding earmarked for the Maze peace centre.
The EU's offer of funding was withdrawn four weeks ago.
'Post-traumatic stress disorder'
The UUP has campaigned against the building of the controversial peace and conflict transformation centre on the site of the former paramilitary prison in County Antrim.
Many unionists had expressed concerns the building could become a "shrine to terrorism", but those behind the plan repeatedly rejected those claims.
The Maze project was stalled in August by First Minister Peter Robinson.
The DUP leader's decision followed a controversial republican parade through Castlederg, County Tyrone, during which two IRA bombers were honoured.
Mr Robinson said the peace centre could not proceed without consensus.
Monday's UUP motion calls on the assembly to recognise the "high prevalence of poor mental health in Northern Ireland".
It adds that a recent World Mental Health survey suggested that Northern Ireland has the "world's highest recorded rate of post-traumatic stress disorder".
The party added that its proposed mental health centre "would be a world class facility for all".