Families of Disappeared: Haass talks can help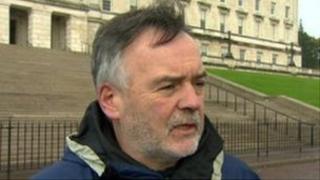 Families of the Disappeared, people abducted during the Troubles, have said the Haass talks can help to have the remains of their loved ones returned.
The Disappeared were murdered and their bodies secretly buried by republicans.
A series of events are being held in Belfast at the weekend to highlight the plight of their relatives.
Families attended a special exhibition at Belfast City Hall on Saturday and later laid a wreath at the steps of parliament buildings at Stormont.
Former US envoy Richard Haass is chairing talks on flags, parading and dealing with the past - areas that have proven difficult for Northern Ireland's political parties to resolve.
Paramilitary
The Provisional IRA admitted responsibility for the deaths of 13 of 16 people who went missing during the Troubles.
Another republican paramilitary group, the INLA, said it killed one person.
There are two people whose deaths have not been claimed by any group.
To date, the remains of nine victims have been recovered.
The relatives said there were people who could end their nightmare by making it known where the remaining bodies are.
Kieran McGraw, of the Campaign for the Disappeared, said: "The Haass talks, there seems to be good involvement from everybody, so hopefully that would push forward (attempts at) getting the information out and recovering the rest of the bodies."
Margaret Mc Kinney, who is 82 years old, said her son Brian was abducted and murdered in 1978. It was 21 years before his remains were finally found and he could be given a proper burial.
"I knew he was dead, but looking for his body among hedges - God when I think back on those days, I would have needed some help because I was going insane," she said.
"I thank God I have him now and know where he is."