Littering fines in Northern Ireland rise by 15%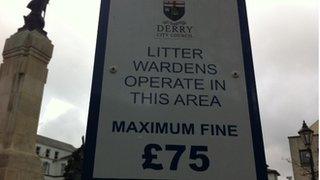 Fines issued for littering have risen by 15% since tougher penalties aimed at tackling rubbish on Northern Ireland's streets came into force.
However, there continues to be a wide disparity in how councils are dealing with the problem.
Other figures show that cleaning NI's streets costs about £40m each year.
Latest figures reveal 3,742 fixed penalty notices were issued by the 26 local councils in the 12 months to April this year.
That works out at around 10 fines handed out every day across Northern Ireland. In 2011/12 3,268 fines were issued by local councils.
The rise follows the implementation of the Clean Neighbourhoods Act in April 2012, which gave councils new powers to deal with litter.
Councils can now hand out more on-the-spot fines while nuisance parking, graffiti and fly-posting can attract an £80 fine.
Single figures
However, the chances of being caught varies widely depending on where you live.
In five council areas the number of fines issued was in single figures.
Ards Borough Council issued just three fixed penalty notices in the whole 12-month period.
Ballymoney, Dungannon and South Tyrone and Limavady councils issued just four each while Moyle handed out seven fines.
Belfast City Council accounted for almost half the Northern Ireland total. It issued 1,790 fines in 2012/13 - up 256 on the previous year's figures.
Craigavon Borough Council had the second highest total, although its figure of 672 had fallen by around a third on the previous year's figure.