AP McCoy: Profile of a 4,000 time winner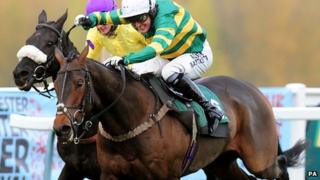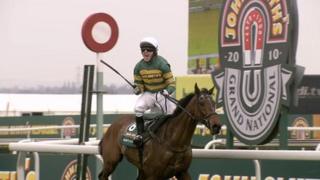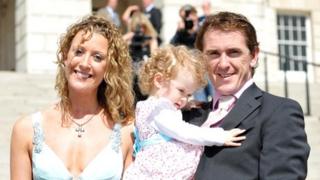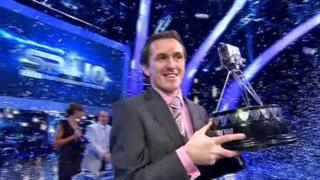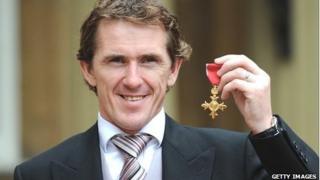 Northern Ireland has produced world champions in boxing and snooker, a world number one golfer and one of the greatest footballers ever to play the game, but none of them have come close to the total domination of their sport that AP McCoy has achieved.
Anthony Peter McCoy, also known as Tony, was born on 4 May 1974 and grew up in the village of Moneyglass, County Antrim.
In a glittering career spanning more than 20 years, he has won every major trophy in UK horseracing, some of them multiple times and is widely regarded as the best National Hunt jockey of all time.
As a teenager, he learned his craft in Ireland, as an apprentice to County Kilkenny racehorse trainer, Jim Bolger.
McCoy had his first taste of success in Great Britain in 1994, riding Chickabiddy to victory at Exeter.
Since then, he has notched up an incredible 4,000 career wins.
His victory tally is considerably higher than that of his nearest rival, Richard Johnston, who has ridden more than 2,500 winners.
Landslide
Earlier this year McCoy was crowned Champion Jockey - the annual award for UK racing's leading rider - for the 18th consecutive season.
Despite his record-breaking success, for many years one trophy was missing from his collection and one nagging query hung over the world's greatest jockey - was he ever going to win the Grand National?
Don't Push It was McCoy's answer to that question - the name of the horse he rode to victory at Aintree in April 2010.
It was his 15th attempt to win the UK's most-watched race.
Later that same season, he was voted the winner of the 2010 BBC Sports Personality of the Year in a landslide victory. He was the first jockey to receive the award.
Broken vertebrae
His prolific success is perhaps all the more impressive considering horseracing is one of the world's most dangerous sports, with a high risk and regular instance of serious injury.
McCoy has not escaped lightly, having broken almost every bone in his body.
The lengthy fracture list includes a broken leg, arm, ankle, both wrists, shoulder blades, collar bones, cheekbones and all of his ribs.
He has also broken several vertebrae in his back, suffered punctured lungs and had to have all his teeth replaced due to racing injuries.
"From the first day I've been riding, I've convinced myself I'm unbreakable," he told BBC Radio 5 live in February.
"The amount of times I've been in the ambulance it is obviously not true. I kind of think I'm like a cat with nine lives sometimes."
If the injuries weren't enough, there is also the punishing jockeys' regime to contend with.
Pre-dawn starts and a tightly restricted diet do not usually assist longevity in any vocation, but the married father-of-two sticks with the programme, even at Christmas.
In 2010, the newly-crowned Grand National winner revealed he would consume just 597 calories on Christmas Day.
His festive feast consisted of three thinly-sliced pieces of turkey breast, one spoonful of cabbage, three Brussels sprouts, a splash of gravy and a small glass of lemonade.
But six months later he was in the ballroom of Buckingham Palace, where he was presented with a OBE from the Queen.
The monarch is well known for her love of the sport and has owned several race winning horses, including Royal Ascot Gold Cup champion, Estimate.
"She's pretty knowledgeable on her racing so it made it quite easy for me. I was never going to be stuck for something to talk about with her," McCoy said at the time.
Controversy
But there have been tough times too.
In 2012, his former Gold Cup-winning horse, Synchronised, unseated him just before the start of the Grand National, causing a lengthy delay to the race.
Synchronised was passed fit, but fell at the sixth fence and died - one of two horses to suffer fatal injuries in the race.
The deaths led to significant controversy over horse welfare and McCoy later said he had been deeply affected by the loss of his mount.
"It is one of those terrible things you wish would never happen. Certainly Synchronised is a horse I won't ever forget," he said.
But the County Antrim man got back into the saddle and continued to rack up victories, steadily riding towards his 4,000th landmark career win.
So it the finishing post in sight for McCoy? Don't bet on it, as he is still looking over his shoulder at the competition, even if they are very far down the track.
"No matter how successful you are in any sport, and no matter how good you think you are or anyone else thinks you are, there will always be someone who will do better," the jockey told the BBC as he won its Sports Personality of the Year award.
"That is something that I think of every day I go out, in that, I know how ever much I'm lucky enough to keep winning, I know that someone's going to win more than me and that's what motivates me.
"And obviously I love doing what I do."