900 lung cancer cases diagnosed in Northern Ireland annually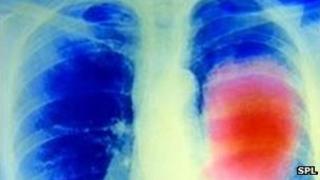 Around 900 new cases of lung cancer are diagnosed in Northern Ireland annually, according to the Public Health Agency.
That makes it one of the most common forms of cancer among men and women.
The agency estimates that smoking cigarettes is the single biggest factor in 90% of lung cancer cases. They also suggest that smoking one cigarette a day triples your risk of contracting the disease.
Friday marks the start of lung cancer awareness month.
Gerry Bleakney works for the PHA helping people to stop smoking. She said that falling at the first hurdle when trying to stop should not put people off.
"If you quit and then relapse, accept it, work out why it happened and focus on how you can avoid it in the future," she said.
"It takes several efforts for many people to quit for good."
She said that while some people may find giving up extremely difficult, it is a life-changing decision.
"Quitting is the single most important thing you can do for your health and if you stop for 28 days or more, you are five times more likely to stop for good," she added.