Michaela McAreavey murder: Defence lawyer criticises police investigation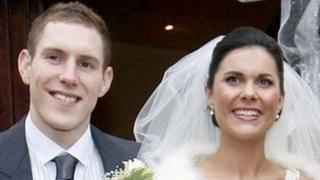 A lawyer for one of the men acquitted of Michaela McAreavey's murder is to present a report to police alleging that they botched the investigation.
Mrs McAreavey, a 27-year-old teacher from County Tyrone, was strangled in her honeymoon hotel suite during a robbery in Mauritius in January 2011.
Two of the hotel's staff, Sandip Moneea and Avinash Treebhoowoon, were acquitted of her murder in July 2012.
Last December both men said they were suing the Mauritian police for damages.
The pair spent 18 months in prison before being cleared of the charges.
Mr Moneea's lawyer, Rama Valayden, is due to present his report to police on Thursday and is calling for a public inquiry into the original murder investigation.
'Jeopardised'
Mrs McAreavey was the daughter of one of Ireland's leading sports figures, Mickey Harte, who is the manager of County Tyrone's Gaelic Athletic Association (GAA) football team.
During the seven-week murder trial at Mauritius Supreme Court, the jury heard allegations that police failed to interview key witnesses and carried out beatings to force confessions.
As he prepared to deliver his report, Mr Valayden told the BBC that the original police investigation was botched, alleging that detectives neglected several important aspects of the case.
"I will present three main pieces of information to the police on how they have jeopardised the inquiry," the lawyer said.
"First is the sequence of the events. Secondly, the time of recording of statements from suspects and witnesses, and finally, the video recordings of CCTV cameras of the security company."
'Autopsy report'
The lawyer also said he plans to ask the police to focus on aspects of the DNA evidence.
"A belt was found in the room, on which no analysis was made," Mr Valayden said.
"The autopsy report also interested me, especially about the time of death of Michaela Harte.
"People in Ireland must also ask these questions," the lawyer added.
"We are all brothers and sisters in this blue planet, I am asking for a commission of inquiry which will be public and live."
Mr Valayden, who is also a former attorney general in Mauritius, acted as counsel for the defence during the murder trial.
Last December, he was hired by Mr Moneea to bring a compensation claim against the Mauritian police.
Mr Moneea, a former floor supervisor at the Legends Hotel, said his arrest and 18-month detention were "illegal and arbitrary".
At the time it was reported he was to seek compensation of 80m Mauritian rupees (nearly £1.6m).