Danske Bank returns to profit in NI but cuts staff in the Republic of Ireland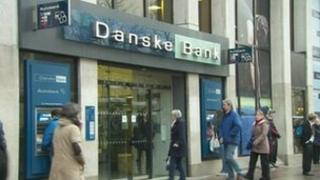 Dankse Bank has said its Northern Ireland operations have returned to profit for the first time since the start of the economic downturn.
However, it has announced it is to end most of its operations in the Republic of Ireland, which is likely to result in up to 150 job losses in the south.
Gerry Mallon, head of Danske Bank in the UK & Ireland, said the 150 staff were at "risk of redundancy" and there would definitely be some job cuts.
It follows huge losses in recent years.
So far this year, Danske Bank has made a loss of 34m euros (£29m) through its operations in the Republic of Ireland, which was formerly known as the National Irish Bank.
Mr Mallon said the bank had taken a "straightforward business decision" to wind down its personal and business banking sectors in the Republic as they were unlikely to return to profit in the near future.
'Shocked'
"The decision regarding the personal and business banking divisions is necessary to stem the losses that continue to accrue in those units.
"Against the backdrop of the difficult economic and trading environment in Ireland, the bank has been unable to re-establish a sustainable retail banking business mode."
He told BBC Radio Ulster that they would concentrate instead on corporate and institutional banking in the Republic, which involved fewer customers but larger profits.
He said Danske Bank would "continue to honour existing loan agreements" for Republic of Ireland customers but would not open any new accounts for personal or business customers.
The head of the Irish Bank Officials Association (IBOA) trade union, Larry Broderick, said: We are shocked at the decision and the lack of consultation with staff and customers. We would ask the bank to reconsider.
"It is the second bank in Ireland to close in the space of a week after ACC announced it is handing back its banking licence."
Northern Ireland
The bank's fortunes are significantly different north of the Irish border.
Danske Bank's Northern Ireland operations have made a pre-tax profit of £1.4m so far this year, delivering a profit across three quarters for the first time since 2007.
The management said performance has improved this year because they have had fewer bad debts to write off and have improved efficiency.
"We are firmly on the right track for future growth of Danske Bank in Northern Ireland," Mr Mallon said.
"As a leading retail bank our financial performance is a bellwether of the wider economy and our latest results certainly indicate that consumer and business confidence is beginning to return," he added.
He added that the bank's income is "holding steady and costs, while under constant review, are well under control".
Danske Bank and its predecessor Northern Bank, suffered significant losses as a result of the property crash and has been gradually writing off bad loans since 2009.
Danske Bank's Northern Ireland operation made a loss of £92m last year, due to having to write off £156m in bad debts.
'Fragile recovery'
Mr Mallon said: "Whilst it is encouraging to see impairment charges tracking downwards, we continue to make a cautious assessment of the valuation of impaired assets in the current property market."
He added that while it was still early days, there was "clear evidence of activity returning" to the housing market, particularly from first time buyers.
"Looking to the broader picture, all the economic indicators both nationally and locally are pointing in the right direction.
"Recovery is still fragile and impairments tend not to happen in a linear way; however, given our own steady road to recovery I remain very confident about the development of our business performance and that of the local economy," Mr Mallon said.
Listen to the full interview with Gerry Mallon on the NI Business News Podcast.