Court: Twelfth rioter jumped on police Land Rovers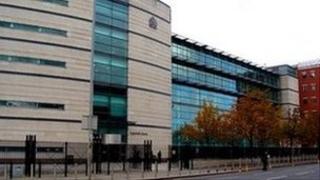 A County Antrim man who jumped from one PSNI Land Rover to another during Twelfth of July rioting in Belfast has been jailed for three months.
James Moore, 30, waved an Ulster flag as he kicked out at police lines and tried to tear off a wing mirror.
Moore, of Hillhall Park, Lisburn, admitted charges of riotous behaviour and attempted criminal damage.
He was part of a crowd at Woodvale Road as an Orange parade was banned from passing the Ardoyne area.
Belfast Magistrates Court heard that when later arrested and shown footage of the trouble, he accepted his involvement, telling police he had been "blocked".
A prosecution lawyer said the CCTV evidence depicted him climbing up onto a Land Rover and then moving across to a second vehicle.
'Too much to drink'
He was banging and striking out at police while holding the Ulster flag.
Moore also attempted to hide his face with a flag, the court heard.
He subsequently said he had been following a band on the day and taken too much to drink.
A defence solicitor said Moore's behaviour was "less serious than those involved in missile and petrol bomb attacks on police".
"It really was not a situation of him being a leader or egging anyone one. It was pure stupid, drunken behaviour," the lawyer said.
However, the district judge said her views were clear on those who became involved in public disorder.
She sentenced Moore to three months in prison for the riotous behaviour and imposed a concurrent two-month term for the attempted criminal damage.