Residents' safety fears over Ballymena bioenergy plant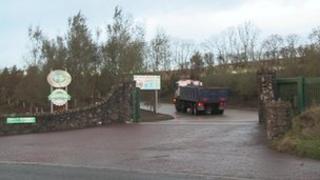 People living close to a County Antrim quarry where a £15m bioenergy plant could soon be built have said they have safety concerns.
Irish-owned Stream Bioenergy Ltd is planning to build an Anaerobic Digestion (AD) plant near Ballymena that would generate electricity from poultry litter.
The company said it would provide power to 4,000 homes.
They also said it would help Northern Ireland meet green energy targets.
It is estimated the plant would employ 14 full-time staff.
The proposed seven-acre site is three miles outside Ballymena at Tully Quarry.
The application goes before Ballymena Borough Council next week but many residents, like Henry Taggart, have only learned about the proposal in recent days.
He said: "No-one ever came to us to tell us they were intending to build such a facility. It just happened to be that one of our neighbours was talking to someone and they mentioned it to him.
"By my estimation, it's going to be within about 200 metres of where they are quarrying, which would involve active blasting."
Henry's wife Donna said many in the area are very concerned.
"My main concern is for health. My daughter has a chest condition which she is on prescribed medication for and we have no idea what this is going to do to air quality," she said.
Methane
Stream Bioenergy said: "All gas produced during the AD process is captured within the enclosed system and converted to renewable energy.
"The plant will be operated in accordance with stringent regulatory controls and limits."
The company also said it had no concerns about the proximity of the plant to a quarry.
Stream Bioenergy said it would be the first AD plant in Northern Ireland to be powered purely by poultry litter - 89 tonnes a day.
It said the process of extracting methane from the litter was entirely enclosed.
"The air from the building is diverted for treatment to an odour control system to ensure there are no releases of malodours," the company said.
"Once the feedstock enters the system it is totally enclosed until it is fully digested. The final product will be an odour-free fertiliser which will be loaded in an enclosed area."
Representatives of Stream Bioenergy met with some residents on Wednesday evening. Afterwards, one resident, Michael Walsh, said few of his fears were alleviated.
"When I asked about the emissions and filtration from the plant - there were some aspects of the filtration in this plant that are peculiar to this installation, and therefore all of the controls and all of the assurances are basically all theoretical."
Stream Bioenergy said it had "undertaken a comprehensive pre-application consultation with the relevant statutory bodies to ensure that the proposed AD plant meets all of the relevant planning and environmental policy tests and guidelines".
"There is no requirement in planning policy or legislation at present to undertake pre-application community consultation."