Letter bomb attacks 'reckless' says Theresa Villiers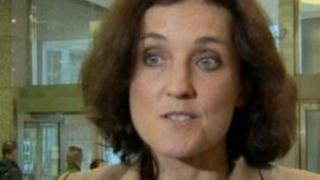 All possible efforts will be made to track down the people behind a series of letter bombs sent to prominent figures in Northern Ireland, Secretary of State Theresa Villiers has said.
She was speaking after meeting staff at Stormont Castle who intercepted a letter bomb sent to her on Tuesday.
The postal clearance station on the Stormont Estate was evacuated on Wednesday while a package addressed to a member of staff was examined.
However, it was found to be harmless.
Police are on high alert following a series of letter bomb attacks in recent days, with Chief Constable Matt Baggott pledging intense efforts to find those responsible.
Ms Villiers was not at Stormont Castle when the letter bomb was found, as she was in London to meet US diplomat Richard Haass, who is chairing inter-party talks dealing with parades, flags and the past.
However, on a public engagement in Belfast on Wednesday, she echoed Mr Baggott's comments and described the letter bombs as "reckless".
"All focus is on trying to track down the people who were responsible for these attempts, to frustrate them and prevent them from carrying out their intentions to harm people in Northern Ireland," she said.
She said she had thanked the staff at Stormont who had identified the letter bomb addressed to her.
On Friday, two letter bombs addressed to senior police officers were intercepted at postal sorting offices, while on Monday, a similar device was sent to the offices of the Public Prosecution Service in Londonderry.
Dissident republicans are being blamed.
Earlier on Wednesday, a security alert at the Royal Courts of Justice complex in Belfast was found to be a false alarm. A package addressed to a member of staff was examined but found to be harmless.
Flag protests
In another engagement, Ms Villiers said she had met Belfast management and traders where they discussed the effects on business of loyalist flag protests.
Ms Villiers said it was vital that Belfast was protest-free after poor Christmas sales last year.
She said the way to resolve issues around flags and parading was through the Haass process, and she appealed for loyalists organising a protest at the end of November to reconsider.
"It is absolutely essential we don't have another winter of protests in Belfast city centre," she said.
"They are very economically damaging, not just for the retailers that I've been meeting this morning, but for Northern Ireland as a whole.
"Belfast is an important driver of economic prosperity in Northern Ireland. We need a successful Belfast, a successful city centre and that is very difficult to deliver if there is major disruption every Saturday afternoon."
She added: "We really don't need another winter of disruption."