No Northern Ireland care homes to close before 2015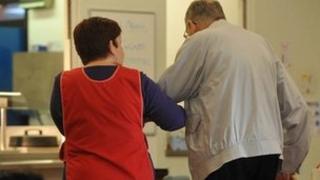 The Health and Social Care Board has told relatives and residents none of Northern Ireland's statutory care homes will close before the end of 2014.
The ban on admissions will also be reviewed.
The board made the announcement during an, at times, heated public meeting in Belfast on Tuesday.
Care homes in the northern, southern and western trust areas were earmarked for closure in April of this year.
In May, the health minister ordered trusts to suspend consultation plans.
The move followed a public outcry, with families and residents angry about how the matter was being handled.
A fresh consultation was announced in August.
The health board is in consultation over what criteria should be used to assess a home's future.
Speaking after Tuesday's meeting, the director of Social Care and Children, Fionnuala McAndrew, said: "It was very important that the board members heard the views of all the stakeholders who came sometimes long distances to attend the meeting.
"They vigorously expressed their views and concerns.
"We are listening, we have heard their concerns and I think it's now time we take those views away and consider our consultation in the light of those."