Board delays Crumlin Integrated School closure decision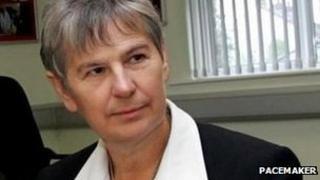 The North Eastern Education and Library Board has voted to delay a decision on Crumlin Integrated College's closure.
A campaign to save the school was launched because protesters believed a decision would be taken on Tuesday to recommend closure.
However, although the majority of board members sit on its education committee, which made the recommendation, some changed their minds.
They agreed to meet to consider the possibility of a new school.
Its management would be chaired between the board and the Catholic authorities.
The education minister and the Council for Catholic Maintained Schools will be invited to attend.
Threat
Meanwhile, the BBC has learned that the principal of the school was advised to leave her home last week after a suspected threat was made.
It is understood a telephone caller to the North Eastern Education Board said a group of people was about to go to Dr Annabel Scott's home.
Police visited her and she is believed to have left her home for a time.
Dr Scott has been out of the Crumlin school for three years, following a damning inspectors' report in 2010.
Last year parents protested and she received a suspected death threat when she was due to return to work.
The school's numbers have fallen dramatically.
Some parents say they are unwilling to send their children there while Dr Scott is still officially the principal.
Dr Scott's union, the National Association of Head Teachers, said the reaction of parents was sad.
The union said pupil numbers have declined dramatically during the time the principal was out of the school, so the fall could not be attributed to her presence.