Ford praises Royal Mail staff after letter bomb attacks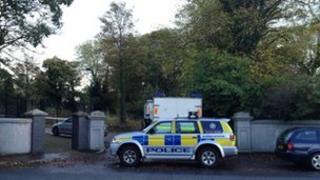 Postal workers at Royal Mail have been praised by Justice Minister David Ford for their vigilance when handling suspicious packages.
A letter bomb was sent to the Public Prosecution Service office in Londonderry on Monday.
Police said the bomb was similar in make-up to two devices found in postal sorting offices in County Antrim on Friday.
The minister met postal workers at the sorting office in Mallusk on Tuesday.
Mr Ford said: "Royal Mail has been very active in putting in place security measures to detect and deal with suspicious packages, which in turn helps to secure and protect our citizens.
"I was grateful for the opportunity to personally thank some of the staff involved in dealing with our mail and carrying out those security checks.
"There is an obvious threat to these staff when reckless people abuse the mail system and I commend them for their vigilance."
'Sleepless night'
Postal workers in Londonderry held a meeting on Tuesday afternoon to discuss concerns over their safety.
Head of the Communication Workers Union in Derry, Charlie Kelly, said: "I spoke to the postal worker who delivered the package to the PPS office.
"He was very anxious and worried and probably had a sleepless night.
"He carried it in his sack for over an hour and he was the one that raised the alarm. He found the writing on the package quite suspicious looking.
"This is a busy time for us so it is a worry."