New York-based order of nuns sets up shop in Drogheda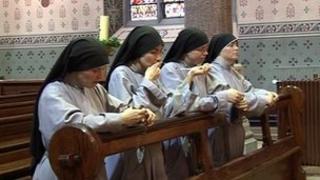 Irish Catholicism has seen many changes over the last two decades with child abuse scandals and falling vocations.
But now one town has seen the arrival of some New York-based nuns to replace an older Irish order.
Drogheda is an historic town in County Louth, at the mouth of the River Boyne.
Less than 100 metres from the river's south bank is a small house beside St Mary's Church - the home of the the Franciscan Sisters of the Renewal.
It is a place where there is lots of singing and prayer.
Four sandal-wearing nuns live a life of poverty and helping the poor, dressed in their old-fashioned veils without a hair showing, and with long grey habits with rope-like belts from which hang wooden crosses.
Sister Jacinta, who grew up in England and worked as an occupational therapist before moving to America, said she was attracted to the Franciscan Sisters because of their lack of airs and graces.
"They were simply women in love with Jesus and wanting to help others, the poor, wanting to serve others. I was really struck by their authenticity and by their joy.
"They were doing all these things and they had nothing, but they were the most joyful people I had ever met," she said.
It may be a joyful life for the sisters, who felt called to a religious life by their vocation, but it's also a life that demands many sacrifices.
Sister Monica worked in high finance for many years and made a lot of money, but it was she said an empty existence.
Like the other nuns she had always felt she would have children.
"I guess it is a sacrifice but when you're a spouse of Christ, which is what religious women are, you're not just called to love your natural family, your three kids, you're called to love every child because every child belongs to God," she said.
"So, you end up with a spiritual motherhood loving every child that you come into contact with."
The Franciscan Sisters have no income of their own and depend on the kindness of both strangers and benefactors, like Rita O'Hare who called unexpectedly while I was there.
"It would be a terrible disaster if the Franciscan missionary sisters of the Order of the Renewal were hungry after bringing them to St Mary's parish," she said.
Simple life
The order is named after the medieval saint, Francis of Assisi, who turned his back on his family's wealth and devoted himself to a simple life of looking after the poor and animals.
So it was with great joy that Sister Kelly Francis and the other nuns learned that the new Pope had decided to call himself after their mentor.
"St Francis was a man who lived radically for the Lord, who loved the Church and the poor. I think that's certainly another way to describe Pope Francis as well. I can understand his desire to have such an inspiring patron saint," she said.
The Franciscan Sisters have been in Drogheda for less than three months.
The Bishop of Meath, Dr Michael Smith, asked Cardinal Timothy Dolan of New York to send them after the Mercy Sisters left the town.
The cardinal, who was educated in Missouri by Mercy nuns from Drogheda, readily agreed.
All four, including Sister Veronica, are daughters of the Irish diaspora, so their Drogheda mission is a a sort of homecoming.
A hundred thousand welcomes
"I never thought I would get a chance to live here. I hoped one day that I'd get to visit. Now, to live here is beyond my expectation," she said.
"And the people here have been so welcoming. We received a hundred thousand welcomes from the moment we arrived here in Ireland."
Because the sisters have only been in Ireland a matter of weeks, they say they are not up to speed on the scandals that have tainted Irish Catholicism over the last couple of decades.
They say that for them their calling and the teachings of Jesus remains of paramount importance.