Seán Quinn Jr to sell home to purge contempt of court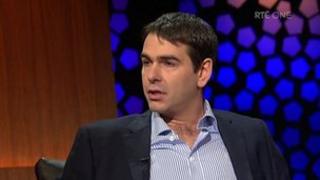 Seán Quinn Jr, whose father was once Ireland's richest man, is to sell his Dublin home to purge his contempt of court in a high-profile bank dispute.
The Quinn family is involved in a £2.4bn euro (£2bn) legal dispute with the former Anglo Irish Bank.
Seán Quinn Jr was jailed in July 2012 after he was found in contempt for breaching Dublin High court orders.
The orders had been imposed to stop him interfering with Quinn International Property Group assets.
Mr Quinn Jr, along with his father and cousin Peter Darragh Quinn, were all found to be in contempt for putting millions of pounds worth of international property beyond the former bank's reach.
The Anglo Irish bank collapsed during the banking crisis was bailed out by Irish taxpayers.
Its affairs were taken over by the Irish Bank Resolution Corporation (IBRC), which then initiated legal proceedings against the Quinn family.
At Dublin High Court on Tuesday, lawyers for the former Anglo Irish Bank, confirmed that once the sale of Mr Quinn Jr's house is completed, that will be the end of the contempt matter.
The court was told that his property at Alder Lodge, Castleknock, County Dublin, is due to be sold in the next four weeks.
The Irish state broadcaster, RTÉ, reported that the house is expected to sell for between 400,000 euros (£343,000) and 440,000 euros (£377,000).
Mr Quinn Jr shares the house with his wife, Karen Woods.
His half of the proceeds of the sale will go to the former bank.
The judge at Dublin High Court said this went some way towards meeting the requirement for Mr Quinn Jnr to purge his contempt.
While it was not the full amount, it was the best that could be done under the circumstances, the judge said.
At the height of his success, his father Seán Quinn Sr was the richest person in Ireland and the 12th richest man in the UK.
He built up an international business empire from humble beginnings at his family farm in Derrylin, County Fermanagh.
He was declared bankrupt in 2011.