Sarah's story: Mixed view of PSNI's response to domestic violence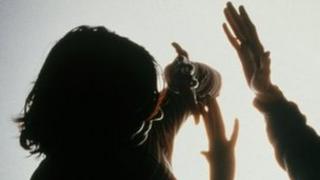 A woman who was repeatedly raped and beaten by her husband has said her life was saved by police who specialise in tackling domestic violence.
However, she said when her husband breached protective court orders, local officers who were not abuse specialists failed to take the breaches seriously.
'Sarah', whose real name has been withheld to protect her identity, spoke to BBC Radio Ulster about her abuse.
It follows a new report criticising the PSNI's handling of domestic violence.
Tuesday's publication, by Criminal Justice Inspection Northern Ireland, said the PSNI has failed to implement a series of improvements that were recommended three years ago.
The BBC's Good Morning Ulster programme spoke to Sarah about her experience of domestic violence and the PSNI's response to her case.
'Punched'
"The most physically violent attacks would happen at maybe three or four o'clock in the morning when I was asleep," she told the programme.
"I would be awakened by being punched or by the covers being ripped off and by being set upon and by being raped. That would have been the most violent of the attacks."
Sarah added that the abuse was not always physical.
She said her husband would play "mind games" to start rows, such as "moving something to a different shelf in the fridge so that you could then be blamed for not having something on the right shelf".
"It's basically psychological games, a full range of tactics to try and keep me under control, keep me isolated, stop me integrating into the community, stop me having friends."
She described her husband's growing campaign of domestic abuse as "insidious" and something that had crept up "very gradually".
"All of a sudden you're in a situation that is extremely unhealthy for everybody in the household," she said.
'Likely to kill'
Sarah said she got the strength to leave her violent marriage "from the protective instinct to make sure my children were not involved in that anymore".
She said she wanted to "break a cycle" of abuse for their sake and sought help from police.
Sarah told the programme that a PSNI sergeant who was specially trained to deal with domestic abuse assessed a profile of her husband, based on the abuse she had reported to officers.
"She told me that I was at risk because the profile told her that he was likely to kill us all and then kill himself, and that was a real wake-up call," Sarah said.
"I think I'm alive today because the police officers that I met listened to me, validated what I said and were extremely proactive in protecting me and my family."
Sarah secured a non-molestation order against her husband through the Family Court.
However, she said he "repeatedly breached that order" and she is critical of the PSNI's response.
"It was very difficult to get localised police constables to take theses breaches seriously because I felt they didn't know how to enforce them," she said.
Despite this response, Sarah urged other victims of domestic violence to seek help to escape from abusive relationships.
"My advice would be go on a website, such as the Women's Aid website, speak to them confidentially and things will happen from there."
Stormont's department of justice estimates one in five women in Northern Ireland have been victims of domestic abuse, and that the police deal with three calls every hour.