Court names drug accused under republican death threat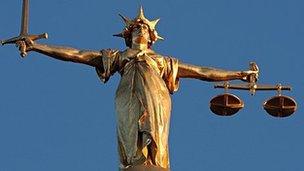 A court has lifted a ban on reporting the identity of two men under death threat from dissident republicans.
Eamon Clarke, 24, with an address at Great Victoria Street, Belfast and Mark Kennedy, 33, Glennor Crescent East, Carryduff, face charges related to the possession and supply of cannabis.
Restrictions on reporting the men's names were put into place last week. They were lifted on Monday after it was agreed those issuing the threat were already aware of the men's identity.
Restrictions remain in place regarding the details of future court appearances.
Lawyers representing the accused told the court how threats identifying their clients had been posted on a republican website. They also raised concerns that reporting the identity of the two men may pose an increased risk to their safety.
The court also heard reports that armed and masked men had entered a bar in Belfast this month, read a statement naming people and warned them to leave the area.
A police representative said: "The threat states that he had 48 hours to leave or would be executed."
District Judge Fiona Bagnall acknowledged police evidence showing the seriousness of the threat.
She rejected claims by defence lawyers that reporting of the men's names would increase any threat to the safety of the accused.
"It's clear that those individuals who issued these threats do know the defendants, they have been named and, I presume, if interested can identify them, where they live and other aspects of their lives.
"My interpretation of the threat is they have already formed a view as to the activities, behaviour and responsibilities of the defendants long before there's been any court process," said judge Bagnall.