Hero priest Monsignor Hugh O'Flaherty honoured in Kerry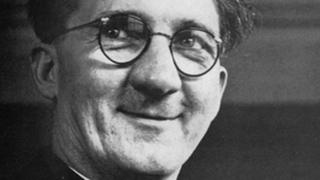 An Irish priest who saved thousands of lives during the Second World War is to be honoured in County Kerry.
A memorial to Monsignor Hugh O'Flaherty is to be unveiled in Killarney to mark the work of the priest who ran an escape line for Allied soldiers and Jews in Nazi occupied Rome.
It is the first memorial to the priest in Ireland.
The unveiling marks the 50th anniversary of his death in October 1963.
Dubbed "Ireland's Oskar Schindler", Hugh O'Flaherty masterminded a large-scale operation from within the Vatican, to help Jews and escaped Allied prisoners on the run from the Nazis.
Often putting himself at serious risk, he used a series of safe houses and church buildings and sheltered an estimated 6,500 people.
The bronze memorial, which includes a six foot high figure and replicas of the medals the monsignor was awarded, has been designed by English artist Alan Ryan Hall who works in a studio on Valentia Island.
Mr Hall became a big fan of the monsignor when he read about his daring exploits in Rome.
He said O'Flaherty was "a real swashbuckling priest". The artist has made a series of public works which are exhibited in towns across Ireland. He said the O'Flaherty memorial was "an absolute pleasure to make".
Assassination attempts
Hugh O'Flaherty grew up in Killarney and his father was steward in the local golf club.
During his time in Rome he was pitted against the local Gestapo commander Herbert Kappler who tried to assassinate the Irishman on a number of occasions.
In later life, O'Flaherty and Kappler became friends.
The memorial in Killarney cost £80,000. It has been paid for by donations and is being erected in the town centre.
Jerry O'Grady, chairman of the Hugh O'Flaherty Memorial Society, said he hoped the monsignor's story would now become widely known.
Mr O'Grady told the BBC that Hugh O'Flaherty "is now part of the Killarney story".
Relatives of Monsignor O'Flaherty will be at the unveiling ceremony along with members of Henrietta Chevalier's family.
The mother of eight, who was a widow from Malta, was an essential part of the escape operation and ran a safe house in Rome.
Family members, including her grandson David Sands, will be in Killarney along with relatives of British Army Colonel Sam Derry who organised the escape line with Monsignor O'Flaherty.
The Irish priest's nephew - also called Hugh O'Flaherty and who is a retired judge - said the family were delighted about the memorial.
"We are thrilled about the whole thing," he told the BBC.
Pearl Dineen, who is a niece of the monsignor, said the memorial was "a dream fulfilled". She said it was most appropriate that it was being unveiled at this time.
The Killarney ceremony will also be attended by the UK ambassador to Ireland, local politicians and veterans groups.
A modest man, if he was alive today Monsignor O' Flaherty would be uncomfortable with the attention his life is now receiving.
He was awarded a CBE by the UK, a US Medal of Freedom, a medal from France and a medal from Italy. He died in County Kerry on 30 October in 1963 and is buried in Cahersiveen.
One of his favourite sayings was "God has no country" and his words have been incorporated in the new memorial.
Stephen Walker is the author of Hide and Seek, The Irish Priest in the Vatican who defied the Nazi Command