Man jailed for attacking police in Belfast Twelfth riot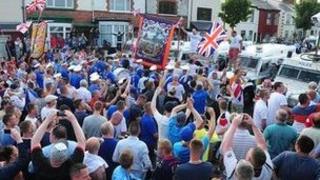 A man who threw bottles at police during a riot in Belfast on 12 July has been jailed for three months.
James Dean Vance, 32, of Dewey Street in the city, was knocked over by water cannon during the rioting in the Woodvale Road area.
Vance was caught on CCTV footage of the rioting, which followed the banning of an Orange Order parade.
Belfast Magistrates' Court heard that he became drunk during the riot and threw two bottles at the police.
Defence barrister Richard McConkey said Vance only became involved in the rioting after he was hit by the water cannon and his phone was broken.
District Judge Fiona Bagnall said: "When anybody starts to throw items in this context at police it takes it past the custody threshold."