Bailout ending but Ireland still grappling with debt problems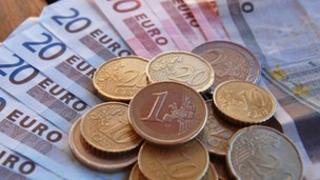 When the Republic of Ireland leaves its international bailout programme in December it will have as much significance for politics as economics.
The country was forced to take 67.5bn euros (£57.4bn) after its biggest banks almost collapsed in November 2010. A further 16.5bn euros (£14bn) was drawn out of the state's National Pensions Reserve Fund.
Three months later voters dumped the ruling coalition.
The senior partner, Fianna Fail, had its worst-ever election result slumping from 77 seats to just 20. The junior partner, the Green Party, was wiped out.
Today's main coalition party, Fine Gael, has talked a lot in recent weeks about regaining sovereignty and independence.
In his budget speech, the Finance Minister Michael Noonan said the end of the programme will mean that "Ireland will have been handed back her purse".
In practical terms that means that Ireland will be able to borrow on the international bond markets - a process that has already begun.
Clearly Mr Noonan's party will spend a lot of time telling the electorate that it did unpopular but necessary things in order to clean up the economic mess and end Ireland's national humiliation.
Austerity medicine
The policy elites from the International Monetary Fund (IMF) and the EU who designed and managed Ireland's bailout can also be expected to claim credit.
They will say it shows that a combination of solidarity and austerity can work.
They can tell the leaders of Spain, Portugal, Greece and Cyprus that if they do as they are told and keep taking the austerity medicine things will eventually get better and their bailout eras will end too.
But the end of the bailout will not really be a "big bang" event.
The IMF will continue to pay regular visits to Dublin until 75% of the bailout funds have been paid back.
Those repayments start in 2015 and it could be 2042 before they are fully paid off.
That could mean visits well into the 2020s - though in practice, Ireland will probably try to pay the money back more quickly if economic conditions allow it.
Seamus Coffey, an economist at University College Cork, said the monitoring will be less intense.
"There will be one visit a year instead of four. There will be a visible arrival but not the line-by-line examination we have at the moment."
However, he also said that even after the bailout Ireland will remain in the EU's Excessive Deficit Procedure - a programme that requires EU members to reduce budget deficits in "a timely and durable manner".
Credit line
"The important thing is that we don't get out of the Excessive Deficit Procedure until 2015 which means that budgets will continue to be set externally," Mr Coffey added.
He also believes that the European Central Bank (ECB) will be closely involved.
"The role of the ECB will probably increase over the next few years given that the ECB has lent a lot of money to Irish banks."
The other question for Dublin is whether it will take what is called a "precautionary credit line" - essentially a sort of bank overdraft on hand should the country's return to the bond markets go less smoothly than planned.
The IMF's latest report on Ireland says that it would be better if Dublin took the credit line; Ireland's leaders would clearly prefer not to take it.
The finance minister said that "on the face of it Ireland does not need a precautionary credit line".
Debt problems
But aside from the warm patriotic glow that comes from knowing your nation's finances are no longer quite so strictly controlled from abroad, what difference will the Irish people notice in the post-bailout era?
It is hard to point to any immediate material benefits and indeed many of the tough budgetary measures that flowed from the bailout will only take full effect in 2014.
It will be bye-bye bailout, hello water charges, rising medical costs and a property tax.
And Ireland will still have to grapple with debt problems.
The country's debt-to-GDP ratio is still around 120% and the banks have barely begun to tackle a mortgage arrears crisis.
Ultimately the country needs to find a way to steady and sustainable growth for years to come.
Without growth that big debt pile could start to look unsustainable - which could lead to another bailout.