Missing US tourists airlifted from north coast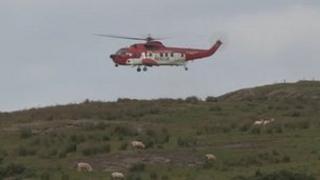 Two American tourists have been rescued from the north coast after they were stranded at Fair Head, County Antrim, for several hours overnight.
The two men, who are in their early 20s, were airlifted from a boulder field at 04:18 GMT on Monday, having been missing for just over 12 hours.
They were taken to hospital for a check-up, having suffered mild exposure and minor cuts and bruises.
The alarm was raised after they failed to return to their accommodation.
The pair had set out on a walking trip at West Torr, Cushendun, at 09:15 GMT on Sunday and were due to arrive back at Ardaghmore Bed and Breakfast in Ballycastle at about 16:00 GMT.
However, they did not return and their landlady raised the alarm shortly after midnight.
'Dangerous'
The police contacted the coastguard, and two teams from Ballycastle, County Antrim and a third from Coleraine, County Londonderry, began a search.
The Irish Coastguard helicopter, from County Sligo in the Republic of Ireland, was also involved in the operation.
The stranded pair heard the helicopter and used lights on their mobile phones to attract the attention of the rescue teams.
The tourists, Henry Thomas from Florida and Lance Weyeneth from Missouri, could not use their phones to call for help as they could not get a signal in the area.
Speaking to BBC Radio Ulster's Talkback programme, Henry said they had been following a walking trail but began to encounter problems with "rough terrain".
"We started getting onto the boulders and so, as we got deeper and deeper into it, we kind or either couldn't go back or decided 'well, let's try to follow Fair Head all the way around and try to walk back'."
'Really chilly'
Henry said they cut themselves on some of the sharp rocks and at one stage he slipped and fell, injuring his side.
The American added that as the evening light faded and the terrain got steeper they tried to find somewhere to "hunker down" for the night.
"We got out of the winds, got a lot of grass, made a blanket and kept warm."
They were both wearing weatherproof clothes but Henry said they "weren't expecting to be in kind of a rough climate like that".
He added that the sight of rescue crews was "a big relief".
"It was starting to get really chilly at the time and we were just happy to see anyone or anything come by."
He thanked the police and the coastguard and also his landlady, Genevieve McLernon, for raising the alarm.
'Lucky'
Ms McLernon said: "When they are here for two or three nights you get to know their movements and I knew that the boys had been in early the previous nights and up and out early on the next day.
"My son and I had gone round to some of the restaurants to check if they had been there but there was no sign of them.
"So then I came back and thought 'well I'm going to ring the police and raise the alarm now, just in case', which is what I did."
The guesthouse landlady said Fair Head and Torr Head were "much different places" during the night, compared to daytime hours, and added that she acted because something "didn't feel right".
Liam Cahoon, watch manager at Belfast Coastguard, said winds had reached force four to five at the time of the rescue operation.
"We've been quite lucky. The severe weather that is being experienced in many parts of the UK did not affect us last night, which made it a lot easier for the two guys."
The watch manager said the boulder field at Fair Head can be "dangerous enough in the day time for walkers".
"Both men were well equipped and had informed people where they were going and their plans, which then obviously meant the correct authorities were alerted."